You will find a beach almost every meter of the Paros coast. The bustling coastline of the island hosts many hidden or popular beaches. You will not find two identical beaches, their variety is impressive. There are rocky, sandy, gravelly beaches. There are places where you can be alone while the other is where you get a sparkling life. But one thing in common is the shining turquoise water. If you are curious about the best beaches in Paros, then stay with us!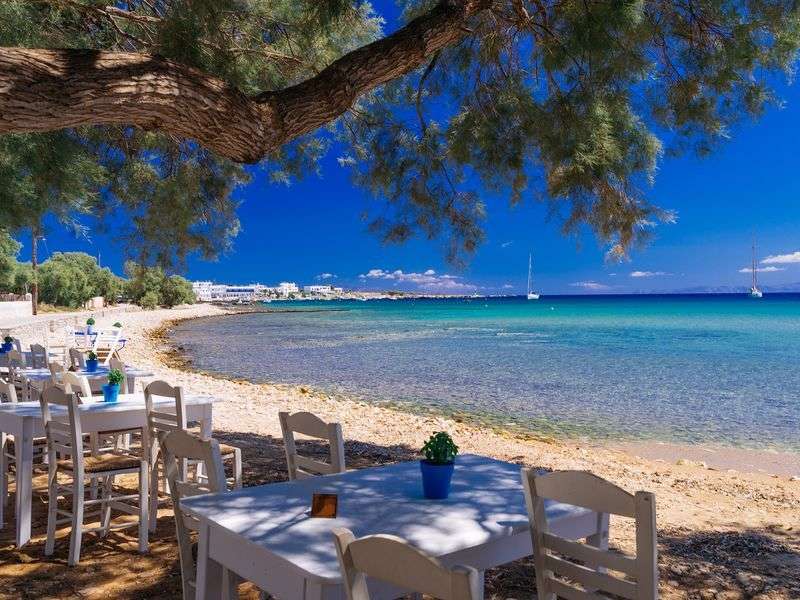 This article summarizes the followings:
Best beaches in Paros: The best places on the south side of the island
If we split Paros with an imaginary west-east line at the height of Parikia and Chrisi Akti, the island can be divided into two. We are now magnifying the southern areas in this section. There are typically quiet, hidden beaches with a few exceptions. If you are interested in the best beaches in Paros, or if you are heading south, then stay with us!
Parasporos
Parasporos is located 4 kilometres south of Parikora in a very cosy bay. The beach is covered with golden sand and the water is crystal clear. It deepens slowly, making it perfect for families with young children. There are some bars and restaurants waiting for guests. Moreover, you can get into regular summer beach parties.
Agia Irini
It is a beautiful beach where dreamy tourists can imagine themselves in Paradise. Blue-green water shines on the sandy rocky coast. Shades of palm trees and olive trees provide shelter from the strong sun. Besides, there is a whitewashed, blue-domed church on the beach. In the nearby tavern, you can only choose from traditional Greek dishes.
Paros Kite Beach
From Agia Irini to Voutakos, there is no organized beach. The west side of the island is about 10 kilometres long and has a huge free beach. Most of it is sandy and it is the favourite place for surfers. Due to the rising Meltemi wind in June, kitesurfing is one of the most popular sports on this coast.
Voutakos
In the intimate silence of Voutakos, no one will bother you. This beach is very rarely visited even by locals and is not well known by tourists. There are some olive trees on its sandy shore and a few fishing boats rest a little further away.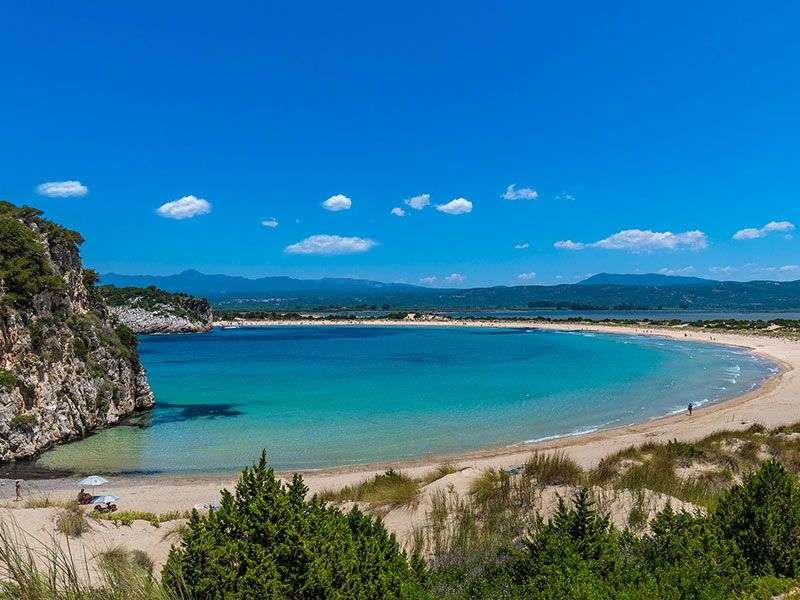 Platia Ammos
Not far from Makria Miti, you will find this picturesque beach. It is located in the southwestern part of the island, near Aliki. It misses all the facilities; there is not even a small buffet on the beach. Instead, it has pink and purple-flowered salt grasses, succulents and tall silky sea-grass. The water deepens slowly, the seabed is sandy. Only the sound of the seagulls comes with the wind, there will be no one here other than you.
Noname bays
There are several small untouched bays between Aliki Krotiri and Glyfa. At the southern corner of the island, you will find only hidden, virgin beaches. If you pass by this area on a yacht, you will be followed by small bays where you can dip in shallow cool water. Snorkelling is also worthwhile in these places as the rocks near the coast are colourful and exciting.
Boudari
Boudari is an isolated, untouched bay where sailors tend to bath. It's rich, lush flora makes you feel like you're in the tropics. Its sandy coast slowly deepens and its water is crystal clear.
Golden Beach
One of Paros's most popular beaches is along the southwestern coast. It has complete infrastructure. Hotels, apartments, inns, bars, and shops line up along the sea. This is one of the favourite places of the surfers, grand competitions are held there too. A plage with golden soft sand welcomes holiday-makers where sunbeds can be rent.
Messada
North of Golden Beach you will find Messada Beach. Surfers also love this place. This beach is one of the quieter alternatives of Golden Beach. A sandy beach, shallow water, and great mooring possibilities await you. This beach is also open for nudists.
Pounda Beach
Pounda is a very well-built, well-equipped beach. Besides, bars are lining up on the beach. Some of them also have a pool, which you can use during consumption. From here, the Logar Sports Centre is just a short stroll away, with its swimming pool, bars, sports fields, and shops. There is music all the time on the beach and there are often parties until dawn.
Coasts and bays in Paros: Beaches in the north side of Paros
There are also many beautiful beaches in the north of the island. It is worth going through this area as it is matching in the mood the charm of the south coast. If you want to know the most beautiful coasts and bays in Paros, or if you are sailing north, then read on!
Kalogeras
This beach is located close to Logaras. It is a frequent neighbourhood, yet quiet. Water sports enthusiasts often visit them in the summer. The coast is sandy-gravely and the water is refreshingly clear. It is a nudist-friendly beach.
Ambelas Beach
Ambelas is a picturesque fishing village 5 km from Naousa and 12 km from Parikia. The beach is an untouched sandy coast and several restaurants in the surroundings sell fresh fish from local fishermen. If you would like to eat a really good seafood dish or fried octopus, you can do it here. Fishing boats are wiggling in the coastal. The sea is cool and shallow in this bay.
Santa Maria Beach
At the north-eastern tip of the island is the famous Santa Maria Beach. Enjoy the freshness of crystal clear blue water on a luxurious beach! A huge beach bar awaits you with a wide selection of food and drinks. Plenty of sunbeds and umbrellas ensure your refreshing relaxation. The bar also has its stage where the best DJs entertain the audience in the evenings.
Piperi Beach
Piperi Beach is just 50 meters from the main road to Naousa. Go fishing, swim or snorkel in the turquoise water! The coast is very wide with plenty of space. Covered with soft sand, it is extremely family-friendly. There are cafes, restaurants, and shops nearby.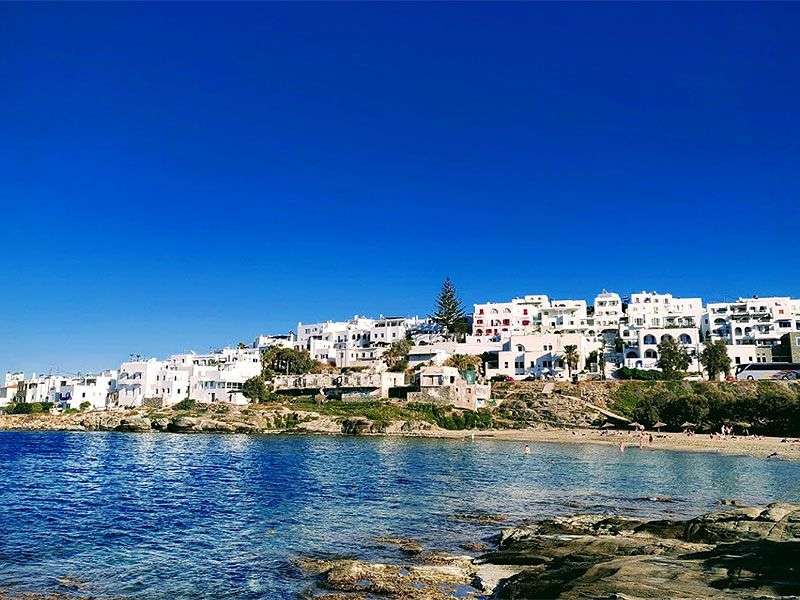 Livadia
There are several beaches near Livadia. They run continuously along the coast of the bay. Limes, Livadia, and Flykia are the three most important beaches. They are all beautiful with shallow water. Of course, the inevitable catering units offer great cuisine for the bathers here.
Kolymbithres Beach
This incredibly beautiful beach lies in the Bay of Plastira. Snow-white limestone cliffs stand on the shore. Wind and water have shaped these rocks into strange forms over the millennia. The beach is made up of several tiny bays that look like separate pools. You can also walk along the beach in glorious white sand. Nearby you will find a restaurant, a bar, and a few shops.
Monastiri
Monastiri is located north of Kolymbithres. Actually, it lies in Agios Ioannis Bay, not far from the monastery. It has sandy shores, surrounded by mountains. In addition, it is popular with sailors, many yachts anchor here only for the night. Summer festivals and concerts are regularly organized here.
Agios Fokas Beach
There is a small rocky bay near the lighthouse. You can comfortably reach it only from the sea, so there are few visitors in high season. The view is magnificent and the water is incredibly clear. It is great for swimming or snorkelling.
Marcello Beach
This beach is located in the Bay of Parikia, not far from the city. It is a sequel of Krios Beach. Its coast is covered with golden soft sand. The sea here is very quiet because the bay is protected from winds and currents. It is the gathering place of young people of their surroundings. There are huge parties in the evenings. There are music and the dance until dawn.
In this article, we have collected you the best beaches in Paros. The beaches of the island are for utmost relaxation. More and more people visit these fantastic beaches in the summer, but it is still much quieter than the surrounding islands. Paros is worth a visit because whether you are looking for an active holiday or a quiet retreat, you will find it here.