If you are looking for a nice holiday on a beach, Spain is a perfect choice. There is a long, breathtaking shore segment here, with a few islands that also belong to the country. The best beaches in Spain? Thanks to its many amazing resorts, Spain offers you everything you need, regardless of whether you prefer peace and calm or the buzz.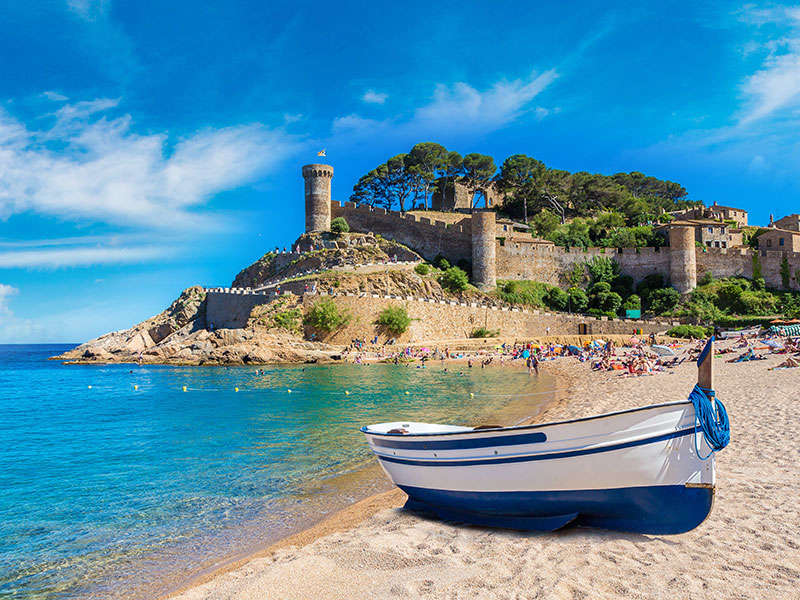 This article gives you an overview of the following topics:
The best beaches in Spain: The most popular beaches
Costa Blanca
It is famous for its white sandy beach, which is several hundreds of kilometres long. The beaches have Blue Flag certification, and the water is crystal clear. They only award a Blue Flag to the best quality beaches in Europe, for instance, the 590-metre-long Albir, also offering several services. If you would like to enjoy the sea in a natural environment, on great beaches, you should visit Calpe. There are pebbly beaches in the northern part and fine sandy shores on the southern side.
Due to their large size, the beaches are spacious enough even during the main season. In Costa Blanca, the temperature of the water is very nice; it starts warming up at the end of May, and it reaches 26 °C by July. Thanks to the shallow water, you may walk 30–50 metres on the shores before realising that you cannot reach the bottom with your feet. This is why Costa Blanca is a perfect destination for families with children. If you want to taste some delicacies, you should try the local tapas, the paella, the frutti di mare or the Sangria.
Costa del Sol
Its biggest charm is the beauty of the beaches and its diversity. There are sandy and pebbly parts as well, and they are among the best ones internationally. They are usually very long and as wide as 30–45 metres. Estepona is one of the most authentic and most "Spanish" holiday resorts. You can find Blue Flag beaches in the 21-kilometre-long shore segment. Its long promenade is perfect for a nice walk.
Marbella also has wonderful beaches and attracts tourists with a buzzing nightlife. Most of its larger beaches are equipped well, and lifeguards provide safety for swimmers. The clean and white sandy Playa de Alicante is one of the best choices. For those who love the nightlife, we recommend Nikki Beach. Puerto Banus has an extremely wide beach with dozens of sunshades and loungers. There are also many beach clubs, for example, the Astral, which is among the greatest cocktail bars in the world. The place, famous for its incredibly delicious drinks, operates in a pirate yacht.
El Salon Beach
The enchanting seaside destination, Nerja has an 8-kilometre-long shore segment; the most crowded beach here is El Salon. You can find it in the centre of the town. It is 200 metres long and 20 metres wide on average. It is a dark sandy shore segment with middle-sized pebbles and clean, shallow water, which might be appreciated best by young people. If you want to admire the fantastic view, you should definitely visit the so-called "Balcony of Europe"; here you can see the sea from an ancient castle.
Playa de la Concha (San Sebastian)
San Sebastian is located in Northern Spain, in the Basque region. It has three beaches; La Concha is one of the most beautiful beaches not only in town but in the whole world. It is located in a wide bay that has the shape of a crescent. It is no surprise that this is the most crowded beach among the ones in San Sebastian. If you would like a delicious meal, try some of the dishes served on the beach, made with fresh fish and shells. As for the other beaches in town, the Ondarreta is much larger than La Concha, and Playa de Gros is a popular spot among surfers.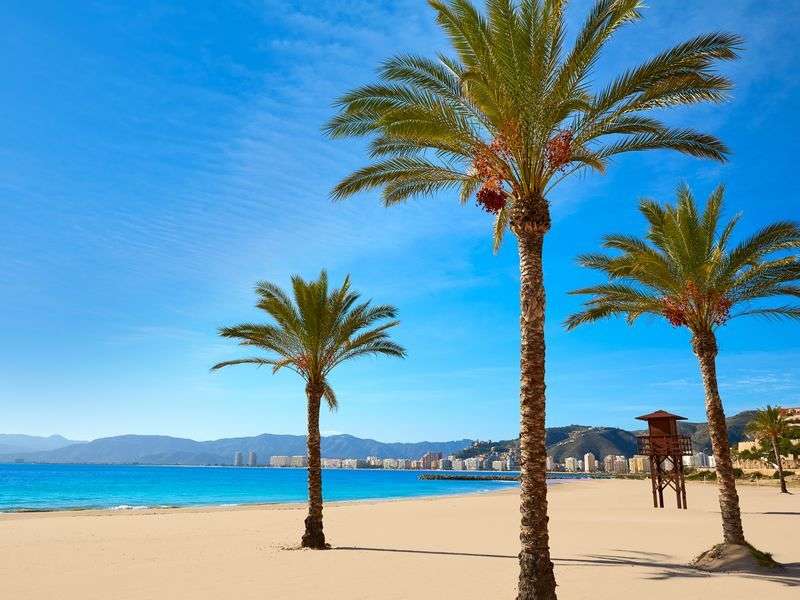 Coasts and bays in Spain: Quiet beaches
Ibiza
One of the gems of the Balearic Islands is famous for the buzzing nightlife, but there are also several entertainment opportunities to choose from during the day. Its two famous sandy beaches can be found 10 kilometres from the capital. These are the Patja des Cavalle and the Platja de Salines. If you visit the place, you must also see the beach of Cala Salada, located in the San Antonio region. There is a great panorama with bright, turquoise water and cliffs in the background. Are you looking for a buzzing beach with white sand? You should head for the beach of Cala Jondal. You can rent sunshades and loungers, and buy a nice refreshing drink. If you happen to need peace and quiet, go to the tiny bay of Cala Xuclar where you can try scuba diving.
Playa d'en Bossa Beach
A very popular bur fairly expensive part of Ibiza. You can find the longest sandy beach on the island, with several watersports opportunities such as jets ski. Another advantage of the place is that it has an aqua park called Aguamar. Playa d'en Bossa has many clubs; Space and Bora Bora on the seaside are definitely worth mentioning.
Mallorca
The largest member of the Balearic Islands with clear water and dozens of white sandy beaches. It is not a coincidence that it belongs to the most wonderful holiday resorts in Spain. It is popular among surfers and sailors. Magaluf Beach is incredibly popular with its beautiful boardwalk all along the water. If you visit this beach, you can choose from many restaurants, souvenir shops and cosy night clubs. Beside the more crowded spots on the beach, Mallorca also has quieter and more secluded parts. Cala Figuera Beach is a great example. The peaceful bay is hidden among the mountains, providing an amazing view.
Cala Formentor Beach
You will find this beautiful and busy spot on the northwestern shores of Mallorca; the beach of Cala Formentor is located in Pollenca Bay. It is a narrow white sandy beach of only 8 metres in width. The beach has a picturesque background thanks to the deep green pines. As it has many shady spots, it is a perfect choice even in the summer. However, it has rapidly deepening waters, so it's probably not a good idea to visit the place with small children.

Menorca
Another large member of the Balearic Islands does not receive the appropriate attention because of Mallorca and Ibiza, even though it is a similarly great destination. Instead of a paradise, we should expect a more romantic beach, recommended for those who want peace and quiet as well as elder people. Interestingly, Menorca has more beaches than Mallorca and Ibiza combined. Beside swimming, we can also have a great gastronomic experience here. Local specialities include the lobster stew and the paella. Would you like to go hiking after relaxing on the beach? Take a walk around the seven lighthouses of the island, providing a marvellous view of the sea.
Gran Canaria
Playa de Las Canteras is the largest beach in Gran Canaria, with a length of 3.1 metres and golden sand. It is not only beautiful and cosy but also incredibly clean. There are many restaurants, cafés, bars, ice cream parlours and shops on the promenade. The other famous beach of Gran Canaria, Playa del Inglés is located on the southern part of the island. It also has a 3-kilometre-long shore covered with golden sand. They offer different services, and there are areas designed for sport, for instance, beach volleyball and football. The beach of San Agustin is also in the south. As this shore segment is less frequently visited, it is much calmer. It is more than 600 kilometres long and has fine dark sand. We can rent sunshades and loungers. There are many terraces, restaurants and bars to choose from on the boardwalk.
Maspalomas Beach
Are you looking for a special place? Visit Maspalomas, a beach famous for its dunes. Its one-kilometre-long, wide sandy beach has breathtaking beauty but is considered very busy. Beside the dunes, El Faro de Maspalomas is another famous sight here; the lighthouse from the 19th century is 56 metres high, and it still operates today.
More beautiful beaches in Spain
Tenerife
You can find the largest member of the Canary Islands, Tenerife, near the shores of Africa. The pleasant climate during the whole year, the sophisticated nightlife and the exceptionally beautiful beaches make this place very popular. You can also try any watersport here. El Medano, for instance, is a well-known spot for surfers, while Los Gigantes is ideal for deepwater fishing. If you are lucky, you may even spot whales.
Are you after something truly special? Visit the shores of Tenerife Las Galletas where you can feed rays in their natural habitat. Playa del Duque near Costa Adeje, is a beautiful beach covered with golden sand. It is a very clean and well-maintained spot that has an exclusive atmosphere. It is popular among families and is considered the finest beach in the neighbourhood. They offer many services.
Playa de Las Teresitas
The best-known beach of Tenerife is Playa de Las Teresitas; its golden sand was yachtped from the Sahara. The rocky background and lagoon-like waters further enhance the beauty of the place. The long, kid-friendly spot is covered with palm trees.
Costa Martianez Beach
This unique beach can be found in Puerto de la Cruz and is a fascinating complex. It is an artificial beach with several pools with impressive sizes. The architecture of the Canary Islands has unique characteristics. Its beauty is further boosted by the statues and the plants. There is also a fountain, palm trees, bars and restaurants making sure that visitors have a pleasant stay here.
Costa Brava
It can be found in the northern part of Barcelona, near the French border. They welcome tourists with several resorts and unique fishing villages. If you are looking for a truly Spanish experience, Tossa de Mar is a great choice. Do you like sandy beaches and the buzzing nightlife? Visit the town Lloret de Mar. You will not only have a chance to sunbathe and swim there, but you can also try scuba diving and have a party in one of the night clubs. The Water World aqua park is a great programme for both kids and adults. They have a lot of different slides and pools.

Lanzarote
The beach of Lanzarote is an area of volcanic origin. Interestingly, there are about 300 volcanic peaks here. The beaches are also amazing. Playa Blanca and Puerto del Carmen are among the favourite spots of tourists. The former has a Blue Flag certification. There are other beautiful beaches waiting for visitors, and there is a marvellous boardwalk along the sea. The one-kilometre-long Playa Grande is the most popular golden sandy beach of Puerto del Carmen and offers several watersports opportunities. The second-largest holiday resort on Lanzarote is Costa Teguise with white sandy beaches that are ideal for surfers; there are scuba diving schools as well.
Punta del Papagayo Beach
One of the most popular beaches of the Canary Islands, Punta del Papagayo Beach, is in the northern part of Lanzarote. The transparent, emerald green water is not only ideal for families with small children, but it is also suitable for beginner divers and those who want to explore the sea bottom.
If you want to sunbathe and swim in a beautiful natural environment, Spain is one of the best choices. As there are a lot of beaches here, everyone will definitely find their favourite spot. Choose from the places listed in this article, and you will have an unforgettable experience.