Majestic cliffs, cosy bays, pastel-coloured houses; you'll definitely associate these characteristics with the beaches in Liguria. And they really are the core elements of the pure Ligurian atmosphere that is forged by that particular Italian calmness and charm. The beaches are easily accessible by boat and they're truly spectacular. But let's see the top 12!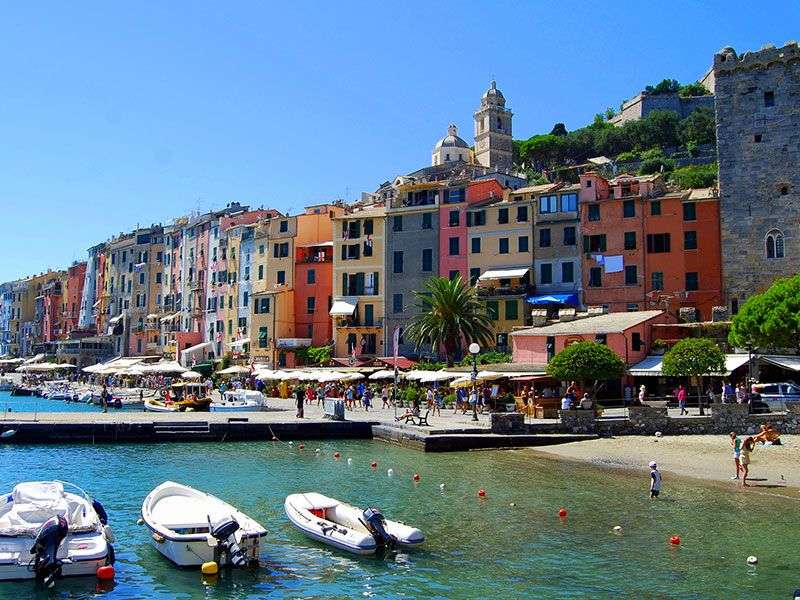 1. Boccadasse
Boccadasse is a tiny, old fishing village next to Genoa, attracting quite some tourists. Its popularity lies in its splendid beach, covered in tiny pebbles and the gorgeous surroundings. The village is nestled in an atmospheric bay, enclosed by cliffs and is lined with superb restaurants and cafes that you're ought to visit. If you'd like to escape the hustle and bustle of Genoa, it's definitely worth exploring this gem.
2. Alassio
Alassio is a town of some 11,000 inhabitants, awaiting visitors with a fantastic sandy beach and many bars. The beach offers an absolutely stunning view over the sea; a perfect spot for a romantic stroll in the evening and some joyful beach time through the day. This part of the coastline is beloved by locals too, partly because of its crystalline waters. If you like walking, the neighbouring Laigueglia is well worth a visit. It's a lovely walk alongside the promenade.
3. Monterosso
In 2006, Monterosso Beach has been listed amongst the 25 'sexiest' beaches in the world by the Forbes Travel magazine. Monterosso is one of the Cinque Terre villages. It's part of the National Park and is undoubtedly an awe-inspiring sight. Fegina Beach is a beloved holiday destination. One of Monterosso's beaches boasts fine sand, whereas the other is covered in tiny pebbles. There're some public stretches on the coastline, however, some parts are only accessible after paying an entry fee.
4. Baia Blu
Baia Blue is a real paradise in the vicinity of Lerici. The beach has a public part and one with an entry fee, so everyone can find an option, suitable for their budget. Although Lerici is not so famous amongst tourists just yet, in peak season it can get quite crowded. Owing to the fact that Baia Blue is a beloved go-to place amongst north Italian families, finding a parking spot can sometimes be quite challenging.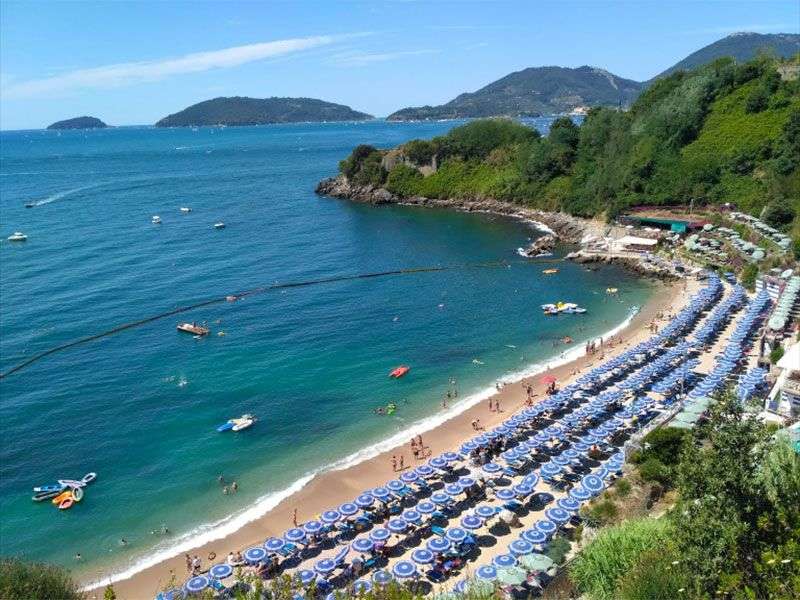 5.The bay of San Fruttuoso
San Fruttuoso village boasts two spectacular beaches. Mighty cliffs tower over the pristine waters, framing this breathtaking scenery. The most prominent landmark of the beach is the Christ of the Abyss statue at the bottom of the sea; a popular attraction amongst divers. The 2.5m tall statue was placed on the seabed in 1954, and you can also visit its replica in the public Church of the San Fruttuoso Abbey.
6. Il Cavallino Bianco Beach
Il Cavallino Bianco Beach is Loano's beloved beach. This quiet stretch of coast is especially clean and it also boasts a splendid restaurant brimming over with delicious dishes. Its playground makes Il Cavallino Bianco Beach a perfect choice for families with small children too.
7. Paraggi Bay
Paraggi Bay stretches next to Portofino and is a real tourist paradise. Being the only sandy beach in the area, lined with crystalline waters, makes Paraggi Bay a desirable destination. It's also very popular amongst fishermen. Although most of the beach is free to access, there're some parts of it were paying an entry fee is required and you'll also have to pay to enter some clubs. If that all wasn't exciting enough already, the beach offers a splendid view of the famous Dolce Gabbana Resort.
8. Noli
Noli is situated in the province of Savona and counts only a few thousands of inhabitants. Its beach is most popular amongst those, seeking serenity. It's only a stone's throw from the town's medieval old town, and it's therefore easy to take a break and have a refreshing dip whilst exploring the town. There're several fishing boats resting in the fine sand, also adding to the uniqueness of this splendid beach.
9. Baia del Silenzio
A fantastic beach with fine sand next to Sestri Levante. This gorgeous stretch of coast, encircled by old pastel-coloured houses, is considered by many to be one of the best beaches in Liguria. Baia del Silenzio is flooded with tourists in peak season, therefore, the low season might be a better time to visit. Beachgoers will be indulged in the awe-inspiring sight of the majestic cliffs, stunning buildings and the charming rocking boats.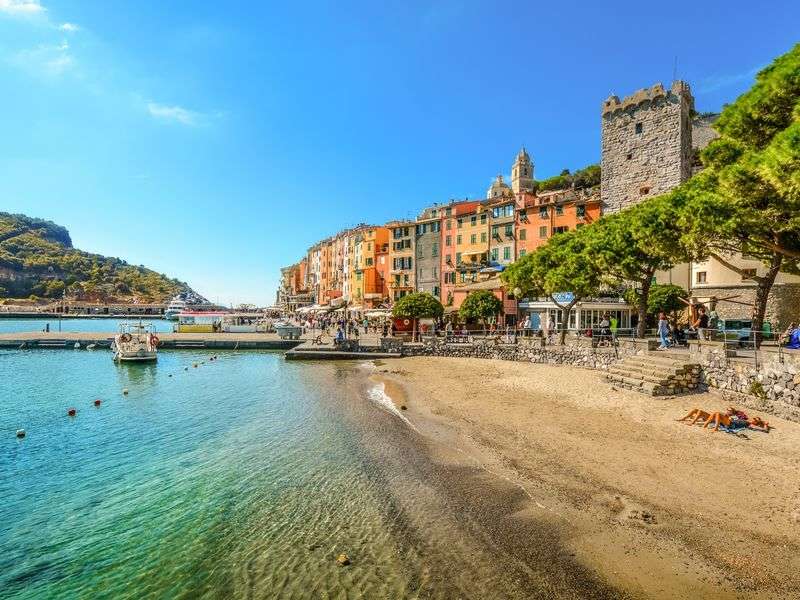 10. Balzi Rossi Beach
The Balzi Rossi coastline offers some rather exciting beach-time. In fact, it's one of the most fascinating of the coasts and bays in Liguria, owing to the famous Rossi Caves. The cave complex is a perfect destination for a day out and the beach is dotted with superb restaurants and clubs.
11. Saracen Bay
The Saracen bay is situated close to Varigotti. A clean beach with pristine waters, surrounded by lush Mediterranean vegetation. The beach is fringed with traditional Italian restaurants where you can sample various delicious seafood dishes.
12. Maramozza Beach
Situated next to Tellaro village, Maramozza Beach is a real gem. A tiny bay, nestled amongst cliffs; a typical Ligurian beach. If you are around, apart from swimming, free some time for exploring Tellaro too!
The coast and bays in Liguria attract many visitors. For its high quality of water, this region is a great family destination boasting sandy and pebbly beaches aplenty.
Liguria is spectacular, both looking from the coast or the sea, and is, therefore, an excellent European sailing destination.