It is well known that the shores of Menorca are unique in the world. There are even more beaches in this island than both Mallorca and Ibiza. The water is unbelievably clear with all shades of blue in the coves. The sea has a pleasant temperature in summer inasmuch as the shore is shallow and slowly deepens. Not to mention the unspoilt environment that also strengthens this effect. Forget your busy weekdays; get indulged in the soft touch of this Eden. Are you curious about the best beaches in Menorca? We show them to you.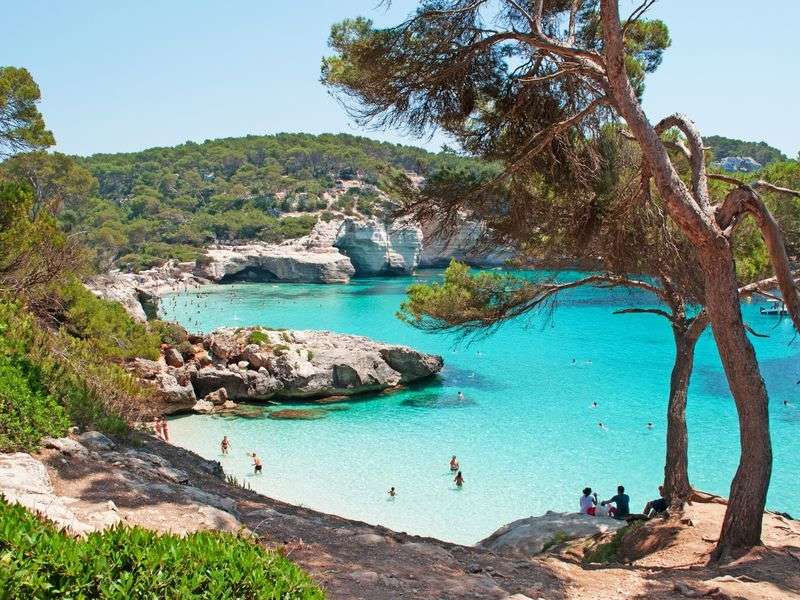 The main points of this article are the following:
Best beaches in Menorca: Fully-equipped bathing areas
Some fancy classical-style beach atmosphere with sun umbrellas, sunbeds and cocktails. If you are sociable and are keen on first-class beaches, definitely check our summary.
Cala Galdana Beach
Cala Galdana Beach is located on the west coast of the island in a protected beautiful bay. Its sandy shore makes it a convenient place. The crystal-clear water appears in unique turquoise shades. There are no waves, so it is excellent for swimming and splashing. Shower rooms, toilets, lifeguard centres and catering services are at your disposal. You can rent sun umbrellas and sunbeds too. Thanks to the shallow water it is an ideal destination for families with small children. Moreover, you can even try canoe and paddle boat.
Cala en Porter Beach
This amazing seashore is located on Southeast, 10 kilometres from Mahon. It, actually, meet anybody's needs. There is a football pitch, a volleyball court, playgrounds. Not to mention its breath-taking environment at the end of a canyon with snow-white cliffs. In many places, the water is almost white, not blue, due to the light sand. Cala en Porter is a real holiday resort with all its beauties. You can visit many restaurants, shops and bars in the streets beside the shore.
Son Parc Beach
This small resort is on the North coast. The beach welcomes all age groups with shallow water on one side and deep water on the other side. Are you looking for rowing opportunities? You can hire here kayaks. Besides, upon sitting in the restaurant by the shore you can have a magnificent view of the sea and the bay. However, its menu card is not too long; its quality is even more famous. The island's only golf court can be found next to the beach.
Cala Santandria
Cala Santandria beach possesses a tropical atmosphere with palm trees on both sides. However, it is small, it has a unique atmosphere. Cool cocktails are awaiting you on the shore under blue-white sun umbrellas.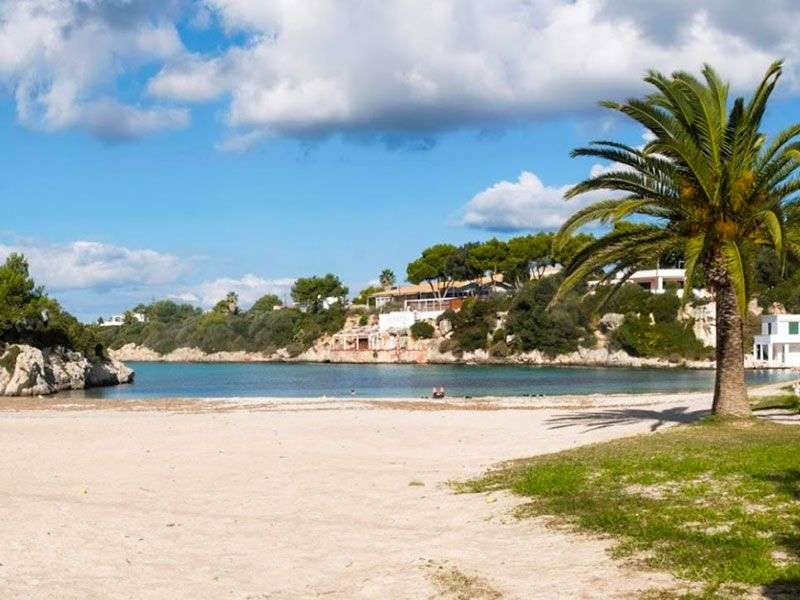 Punta Prima Beach
Punta Prima lies in the south-east corner of the island. It is beloved by children, its water deepens slowly. This is a tranquil beach offering no water sports facilities. Walking on its fine sand seems to be a great feeling. The water has a pleasant temperature without waving.
Son Bou Beach
Son Bou is Menorca's largest beach with 2.4 kilometres of fine white sand. You can rent sunbeds and sun umbrellas, or try boating or paddle boat. Above all, there is a wide choice of restaurants and bars; or you can take part in a voyage.
Arenal d'en Castel Beach
This holiday resort lies in the north-eastern part of Menorca in a circle-formed bay. It is quite protected, so waves do not disturb you during splashing. The designated coast is 650 metres long with light golden sand. It is really tranquil, watercrafts are forbidden to enter this area. The sea is shallow, it slowly deepens. If you are wondering about sports facilities, you can hire bikes on the shore.
Coasts and bays in Menorca: Unspoilt shores
The small island is famous for its untouched nature. Basically, it is the member of the UNESCO Biosphere Reserve. That's why its landscape is so virgin. Many construction activities stopped owing to the indigenous species and their habitats. Therefore, plenty of Menorca beaches have not seen human visitors. The smoothly-stretching natural bays attractively sparkle in the sunshine. Best natural coasts and bays in Menorca? Check it out below.
Cala Pudent
This narrow bay lies on the northern part of the island near Son Parc. It is easily accessible by yacht; thus, it is an excellent destination for boatmen. Besides, there is an estuary of a small river. The water's colour varies from dark blue through turquoise to different light tones. Thanks to the low number of visitors it is a calm and peaceful spot.
Cala Macarella
This amazing small bay hides 2 kilometres from Cala Galdana. The other bay can be found a couple of hundred meters from Cala Macarellata. These two bays are the islands of peace. The sea is light turquoise with much colourful fish swimming in it. For scuba diving, snorkelling this is an excellent choice. To access it you need to follow a cosy pathway. Next to the shore, an enchanting small pub awaits its guests.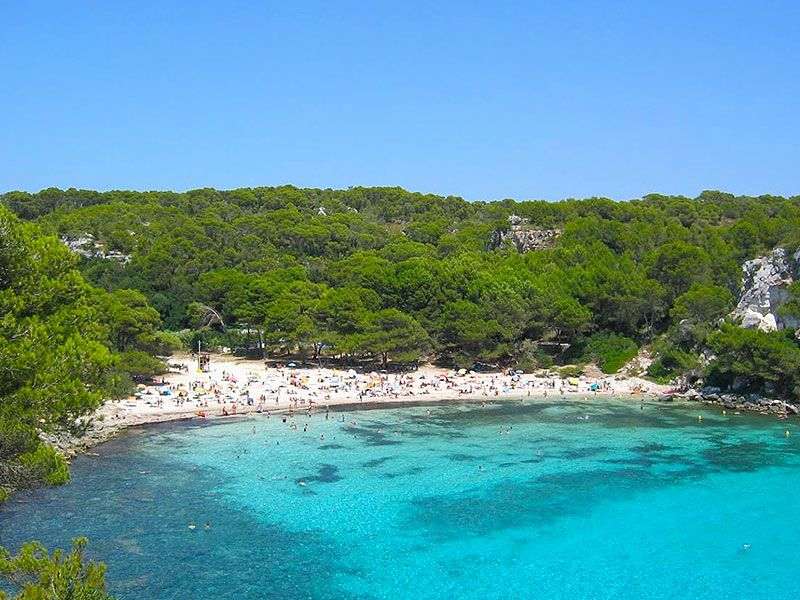 Cala Mitjana
The cove of Cala Mitjana lies among huge cliffs continuously washed by the sea. It has white pine-topped cliffs, and you can marvel at the sky's blue colour gleaming in the sea. There are few yachts swinging on the water a bit far away; you could hear sea birds twittering as the wind blows. If paradise exists in the Earth, I guess, here it is.
Cala Turqueta
This gorgeous cove is on the southwest part of the island. Its untouched natural environment captures your heart. Just lie and sunbathe on the cliffs and listen to the song of the sea. The water is turquoise, the coast is sandy. It is highly recommended for families with small children, there are parking places nearby.
Cala Trebaluger
Cala Mitjana is accessible through a pleasant forest path. It is a beloved destination for boatmen too. Nudists also choose this fabulous calm bay to swim.
Cala Binidalí
This small hidden tranquil beach lies 9 kilometres from Mahon. The sandy coastline stretches along a few meters in a narrow fjord. Nature dominates here, there are no facilities.
Cala Tortuga
Cala Tortuga is part of the Albufera des Grau Reserve. You can find here numerous bird species and rare plants. As a matter of fact, the wild nature is that enchants you here. Do not worry; this beach is not crammed with people. It has crystal-clear water and sandy beach. If you are longing for a tranquil destination, do not hesitate to visit it.
Cala Pregonda
A bit far away from everything, this beach lies on the northern part of Menorca. It is a sheer wild cove where only footpaths lead. There are two things here: you and nature. Spend a day in this calm countryside. Swim in the moderate sea, sunbathe without anyone disturbing you and explore the secrets of the island.
Best beaches&bars in Menorca: Splashing after dinner
What about jumping into the sea after a romantic dinner? Yes, in Menorca nobody can stop you. Try one of the bars right beside the seashore and the beach. Let's see the best places for this on the island.
Trogloditas
Trogloditas bar is in Cala Morell near Ciutadella. The bar has direct access to the local beach. From its fabulous terrace, you can have a spectacular view of the sea. It offers local specialities and handmade beer on its menu card. Plunge into the fresh water, then walk to the shore and watch the sunset with a cocktail in your hand.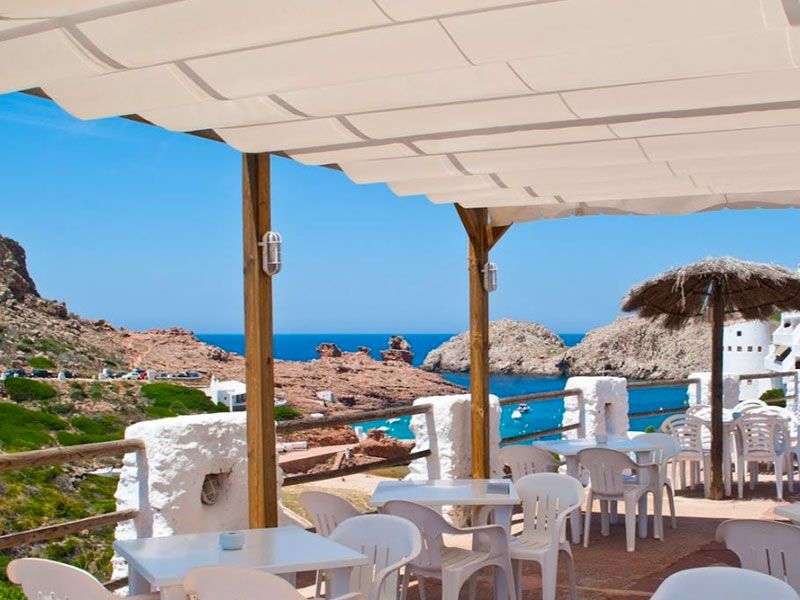 Pirata bar&beach
All generations love visiting this bar near the shores of Cala en Blanes. You sit next to the beach; the water even reaches your legs. They organize night parties where guests drink their lemon gin whilst sitting in the sea.
Los Bucaneros
This typical Menorca chiringuito, a beach bar, was originally a gorgeous fishing house. Its snow-white walls and red door make it easily recognizable. However its menu card is short, it offers delicious local specialities. It is right next to the shore. Before dessert, splash into the clear water.
Es Bruc Santo Thomas
This nice bar is on a beach lying on the southern part of the island. Its tables stand only a few steps from the sea. You can order light local dishes; and when you are warm, put your legs into the water.
Chiringuito Susy
This is the best of all. This bar is in a natural cove, on the beach of Cala Macarella. It is surrounded by a sheer intact wild nature. It has a typical Mediterranean cuisine. Huge trees provide shade onto its terrace. It is usually open until midnight, so you can gain insight into the nightlife of Menorca.
The above article has shown you the best coasts and bays in Menorca. As you have probably seen, it is hard to choose. This island seems to have been formed for exhausted people seeking relaxation in a paradise. Upon visiting the South-Mediterranean region, definitely stop by the second largest shore of the Balearic Islands. Best beaches in Menorca? It is worth discovering the whole island that hides so many miracles in one place.