There are many beautiful beaches in Carloforte. They are characterised by the fine-grained, white sand, the crystal clear water, perfect for swimming, and an incredible landscape. The best beaches in Carloforte? Choose from the following magical locations and you won't be disappointed.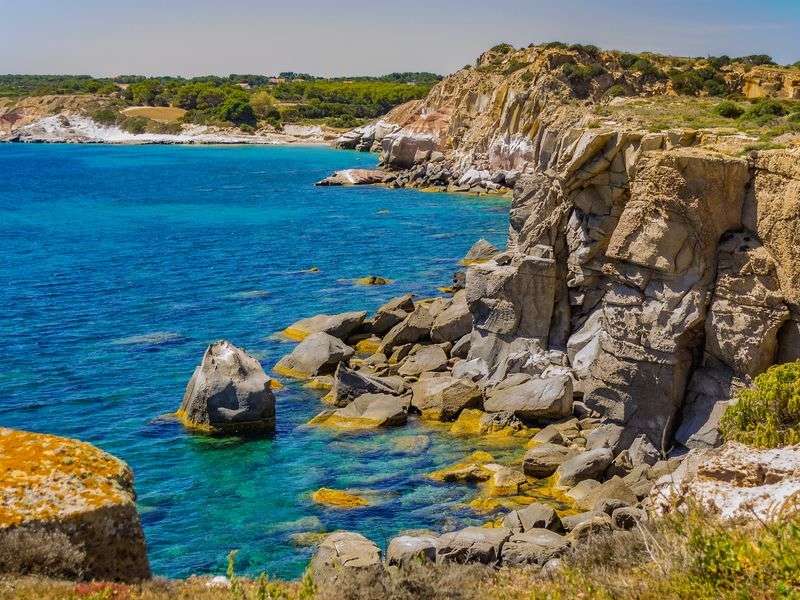 This article gives you an overview of the following topics:
Best beaches in Carloforte
La Bobba Beach
Like most beaches in Sardinia, La Bobba Beach is breathtaking, too. It has a beautiful, white sandy beach surrounded by many tourist attractions. The water is crystal clear, in a wonderful blue shade. Although, you should know that during the high season there are a lot of tourists. The beach is extremely well equipped, there are buffets, sun lounges and showers. If you're looking for a unique gastronomic experience, we recommend the Osteria della Tonnara restaurant where you can choose from excellent dishes.
Guidi Beach
Silky, white sand and dark rocks characterise this beach. If you choose this location, you can swim in crystal clear, turquoise blue waters. The seabed is sandy, but you can find seaweed here and there where you can admire the different fishes. Are you a nature enthusiast? In the spring beautiful, fragrant flowers are blooming everywhere. If you want to have some fun, explore the city's cosy bars, like the L'incudine, where you can choose from a variety of delicious cocktails.
Coasts and bays around Carloforte: Hidden gems
Punta Nera Beach
You can easily access this beach from the marina. The small, picturesque bay awaits tourists with fine-grained sand and beautiful, rocky surroundings. This place is also ideal for children. If you visit here, you should explore the nearby cave, too.
Spiaggia di Cala Fico
This beautiful bay is embraced by steep cliffs. The lush Mediterranean flora and untouched nature is home to Eleonora's falcon. The sea is rich in fish, so diving here is an unforgettable experience.
Cala Cipolla Beach (Chia)
The 150 metres long beach is located in a narrow bay, so it is suitable for families with small children. There are pine and juniper trees on the beach which provide excellent shade. You can also go surfing and snorkelling.
More beaches around Carloforte
Punta delle Colonne
The dark cliffs offer incredible panoramic views, and the water is sparkling in wonderful colours due to the reflection of the sun. Near the shore you can find two formations resembling columns, standing tall more than ten metres above the water. The columns became a natural monument in 1993.
Girin Beach
This beach has fine-grained sand with pebbles and shells hiding in it. The beach is characterised by shallow waters, making it ideal for families with small children. It's good news for the lovers of water sports that this beach is perfect for surfing and sailing.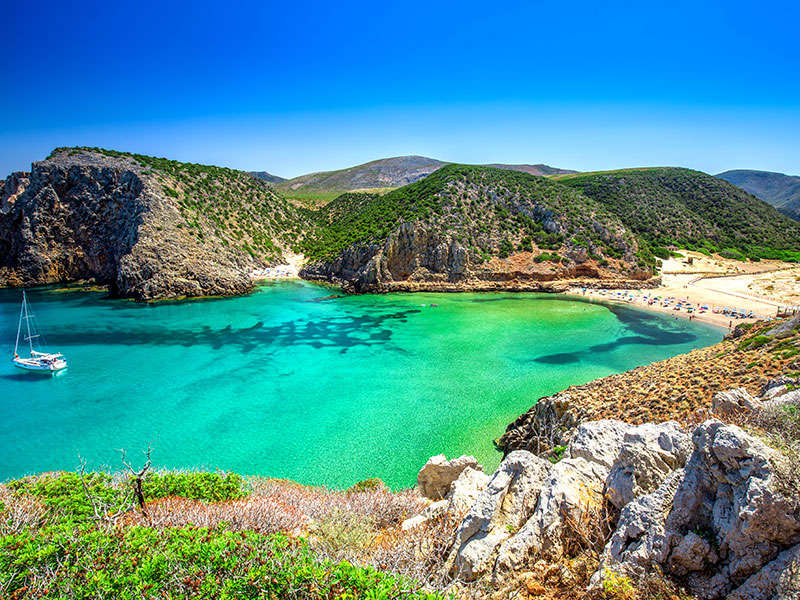 Spalmatore Beach
The beach has light coloured sand, laced with cliffs. The contrast between the white sandy landscape and the surrounding Mediterranean green areas is striking. There is a café, but you can rent sun umbrellas and sun loungers, too. Thanks to the shallow waters you can visit this beach with small children. It's the ideal destination for surfers and scuba divers.
Santa Margherita di Pula Beach (Pula)
The beach, which is more than 2,5 kilometres long, is located near a village of the same name, only 5 kilometres from Domus de Maria. There are sun umbrellas and sun lounges, but you can also find a bar and restaurant here. You can go snorkelling, diving and surfing, too.
In this article, we have introduced you to the most beautiful beaches in the area. You will find popular, well-equipped beaches and romantic, hidden gems as well. Moreover, you can try several water sports here, such as surfing or sailing.