The coastline of the city is the app. 4 kilometres long, and incredibly, there are 17 beaches here. All of them are covered with white sand and has wonderful, deep-blue water. The clean beaches, which are in perfect condition, are mostly accessible easily on foot. Explore the best beaches of Sitges!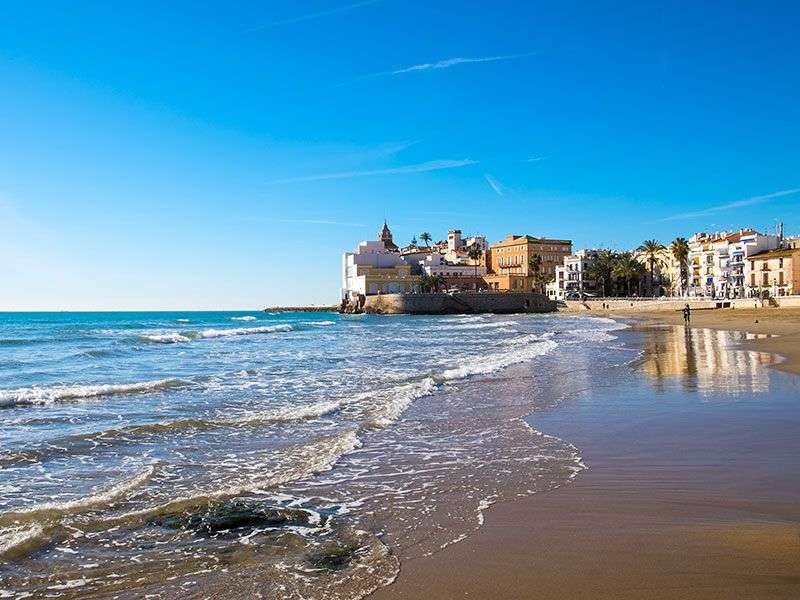 This article gives you an overview of the following topics:
The best beaches in Sitges
Platja de Sant Sebastià
This pleasant beach is very popular among tourists and locals as well. It is not too large; app. 205 metres long and 20 metres wide. It has calm waters making it ideal for spending a relaxing day here with the whole family. You should expect many visitors in August, though.
Platja de L'Estanyol
Thanks to its 360 metres length, Platja de L'Estanyol is one of the largest beaches of Sitges. Although the place is also characterised by calm waters, a team of lifeguards ensures the safety of swimmers. Choose this beach if you are all right with crowds, as the place gets very busy in the summer.
Platja de la Ribera
The other large beach of the resort is the Ribera, which is 260 metres long and 36 metres wide. We should consider the fact that it is really popular in the summer period. The beach offers the most important services, such as lifeguards, sunshades and loungers. You can even find a sailing school in the resort.
Platja de la Fragata
Although we recommend many beaches in Sitges for families, one of the most attractive choices might be Platja de la Fragata. It is among the most popular resorts in town, mainly because of its location. It can be found at the famous Church building, Sant Bartomeu I Santa Tecla. The beach is 85 metres long and 35 metres wide. It only has basic services like restrooms and showers. If you like sports, you can play beach volleyball.
Platja d'Aiguadolç
You can find the beach in a beautiful natural environment, surrounded by mountains, behind the port of Sitges. The beach is 145 metres long, and its average width is 20 metres. The homely beach is well-equipped: there is a bar and you can rent sunshades and loungers. Although there are many visitors in the summer, it is still not among the busiest beaches.
Coasts and bays in Sitges: If you are looking for peace and quiet
Platja de les Anquines
The is the westernmost beach, with a length of 160 metres and an average width of 50 metres. It is located in a small and secluded bay where you can enjoy the sunshine and the water in a pleasant, peaceful atmosphere. Due to its clear water, we particularly recommend it to families. Lifeguards provide safety for swimmers. There is a bar and you can also find sunshades and loungers. There is also a kayak school in the resort.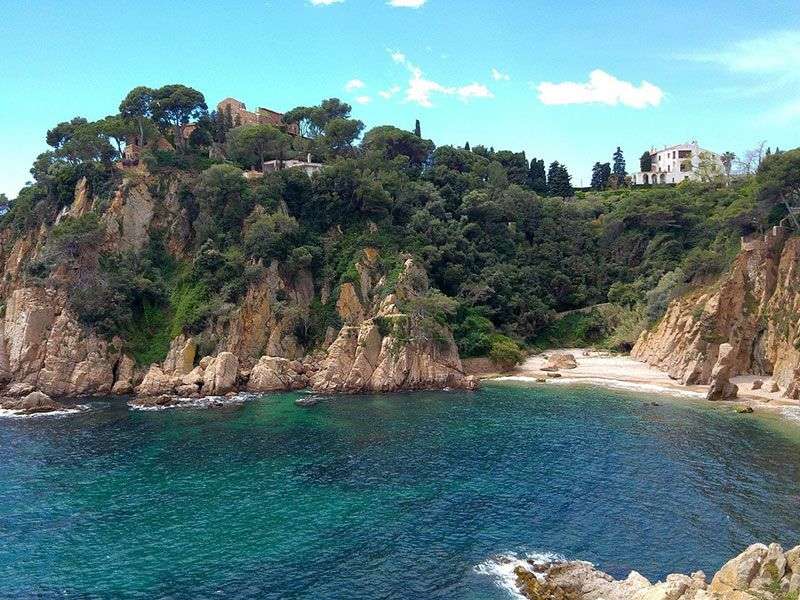 Platja de Terramar
The fine sandy beach is a little further from the centre of the town, so there are fewer guests here. The beach is 395 metres long and 25 metres wide. You can rent sunshades and loungers, and your safety is provided by lifeguards.
Platja del Garraf
The beach of Garraf can be found a little further, out of town. It is a very pleasant spot if you are looking for a relaxing day. The shore segment – 380 metres long and 28 metres wide – offers bars, sunshades, loungers and kayak rental services. There are lifeguards ensuring the safety of swimmers.
There are more popular and smaller beaches in Sitges as well so that everyone can find what they like best. You can choose any beaches presented in this article – you will definitely not be disappointed!