Sunshine, cosy beach, blue sky, fine cocktails – this is what you can expect at your arrival in the Bahamas. Just get ashore and choose a beach. Whether it is about recreation or special adventure, you can find here both.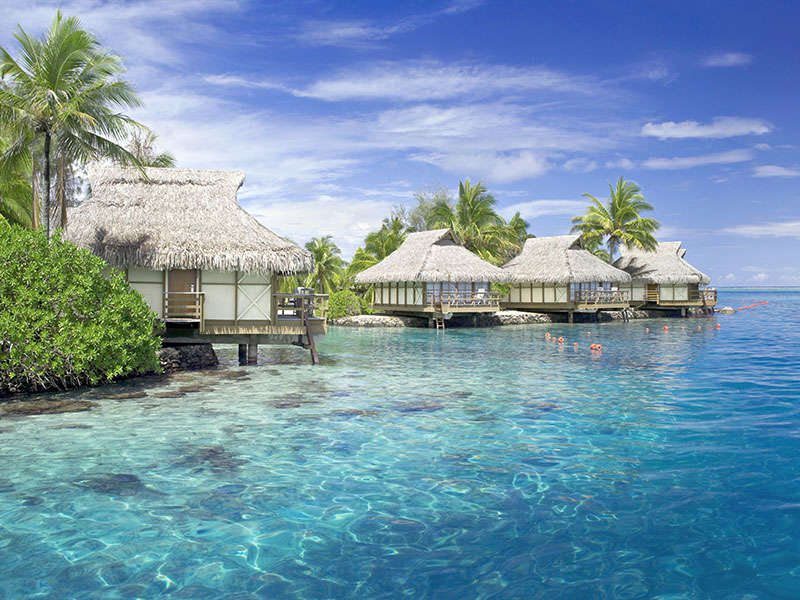 The main points are the following:
Beaches in the Bahamas: Top Bahamian beaches
Dean's Blue Hole (Long Island)
There are numerous beaches next to each other on an 80-mile coastline. Plunge into the world's second largest saltwater undersea sinkhole, the Dean's Blue Hole. Furthermore, check the tiny but fast deepening bay North from Clarence Town. The lowest point is 600 feet below the sea level. Therefore, it is an excellent holiday spot both for sunbathers and snorkellers. In addition, the landscape around the beach is marvellous and is worth visiting even more times.
Tahiti Beach (Abaco)
I guess that you are wondering about palm trees and the Pacific-ocean right now. Yeah, this beach, actually, lying on the shore of Elbow Cay reminds us of the famous Tahiti one. Thanks to the coconut palm trees you can really feel the unique tropical atmosphere. Believe me and definitely visit the shore at the time of high tides. Although it is beautiful at low tides when you can walk barefoot to the small coral reef nearby.
Cabbage Beach (Paradise Island)
One of the world's most popular beaches can be found near Nassau. It is a premium-rate resort with luxurious hotels. Thus, there are occasionally crowds of tourists, but most of them stay on the western part of the coast. Although the eastern part is more tranquil, protected by a rocky peninsula. Nobody can spoil your romantic evening walk in the sand. Many programmes await us here, such as sunbathing, swimming or other water games and sports. The Snorkler's Cove is dedicated to snorkel lovers.
Treasure Cay Beach (Abaco)
The most sparkling coastal region is equipped with beach chairs, picnic tables and covered rest areas. There are plenty of restaurants, hotels and a golf course nearby. Stunning is the word for the 3 mile stretch of sugar-soft powdery white sand like snowy mountaintops. When the weather becomes windy and cool, several kiteboarders are to be seen. By calm weather, though, no other beach is better for a perfect afternoon swim.
Cape Santa Maria Beach (Long Island)
Cape Santa Maria Beach lying on the North-West part of Long Island was named after a yacht of Christopher Columbus. The western and slightly sloping coastline will take your breath away with every glimpse – orange, yellow and carmine evening sky and its romantic atmosphere. In addition, this brilliant scenery is ideal for weddings and honeymoons.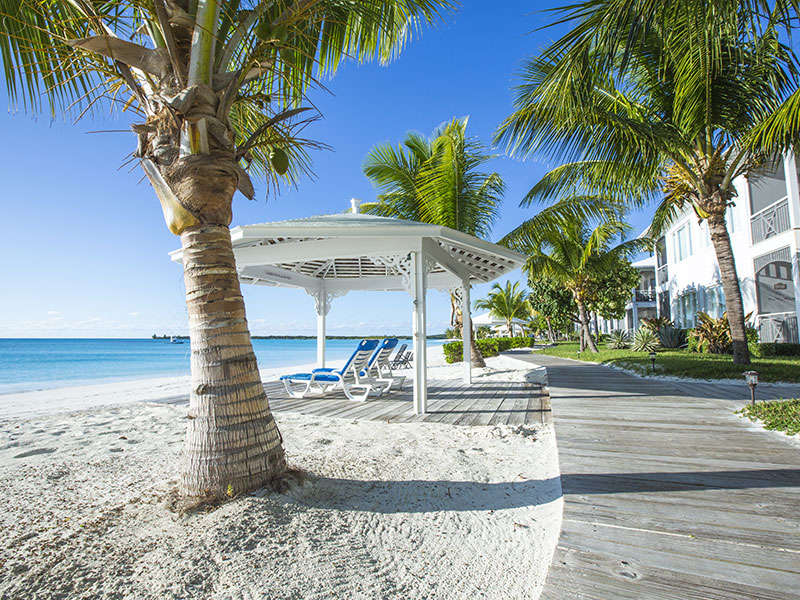 Tropic of Cancer Beach (Little Exuma Island)
The name derives from the Tropic of Cancer since the beach stretches along it. Therefore, the tropical and subtropical climates are dominant. By the way, this long coastline has few shades to avoid strong sunshine. The water is usually calm and excellent for swimming. But don't forget to bring beach umbrellas or icy cocktails to chill down.
Goodman's Bay Beach (New Providence Island)
Just before entering the resort area of Cable Beach is this Goodman's bay, another popular beach. (To tell the truth, the resort area of Nassau has the similar name.) This recreational beach is used by locals for a range of fitness activities like jogging or flag football. Actually, the sand has a lot of rocks, it is not as soft and supple as other beaches in Nassau, although the water is clear. Throughout busier seasons there are some buffets selling hot-dog and refreshments, but originally there are no restaurants nearby. Ready for a picnic? You can find bigger trees with shade along the shore.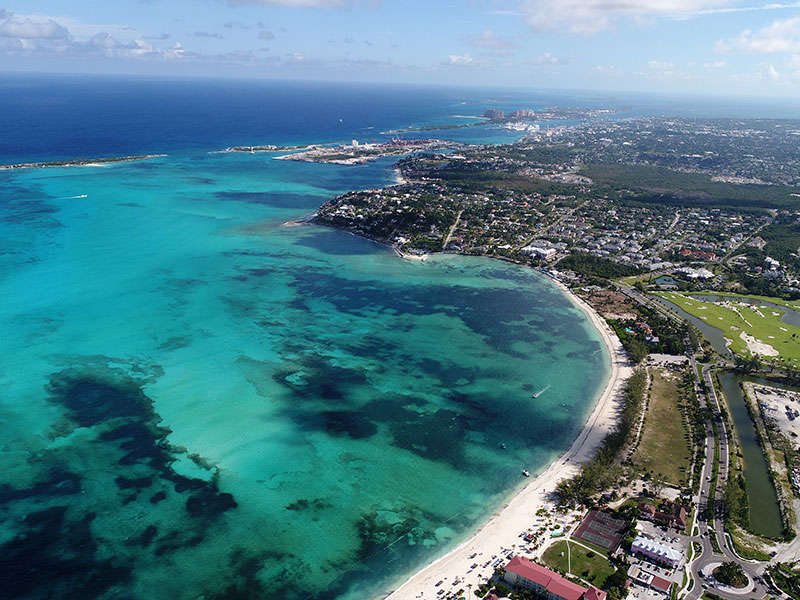 4 special beaches in the Bahamas
Gold Rock Beach (Grand Bahama Island)
This fabulous beach is part of the Lucayan National Park, about 40 minutes from the centre of the island by car. Children usually jump with joy when they see starfish, rays or other aquatic animals since the water is full of them. Moreover, the water is shallow which makes it ideal for small children too. Regarding amenities, there are picnic tables, benches and a marvellous footpath with mangrove bushes.
Radio Beach (Bimini)
Radio Beach, the most popular beach of the small Bimini island, has been visited by more and more tourists. Isn't it creepy to give such a name for a beach? Yes, I agree although it is not a coincidence. Every Sunday another DJ gives a concert to tourists who are sipping cocktails and rum punch while listening to music. Join the club when you are there!
Pink Sand Beach (Harbour Island)
The truth is that this beach has pretty pink sand. Stunned? Yes, for the first time it is a bit embarrassing but that's what makes it unique. Imagine; this pink sand coming from microscopic coral insects never get hot under your feet. Near-shore reefs protect the 3-mile long beach. Due to the reefs, there are only slight waves so both beginners and professional swimmers can enjoy the water here. Of course, plenty of resorts, restaurants and weekend cottages provide accommodation and catering along the coast.
Surfer's Beach (Eleuthera Island)
What else could it be that the paradise of surfers in the southern part of the Atlantic ocean? However, a recent hurricane brought mayhem to the islands, its popularity has not reduced. The best period for surfing is between October and April, but you can rent surf equipment at any time and conquer the ocean.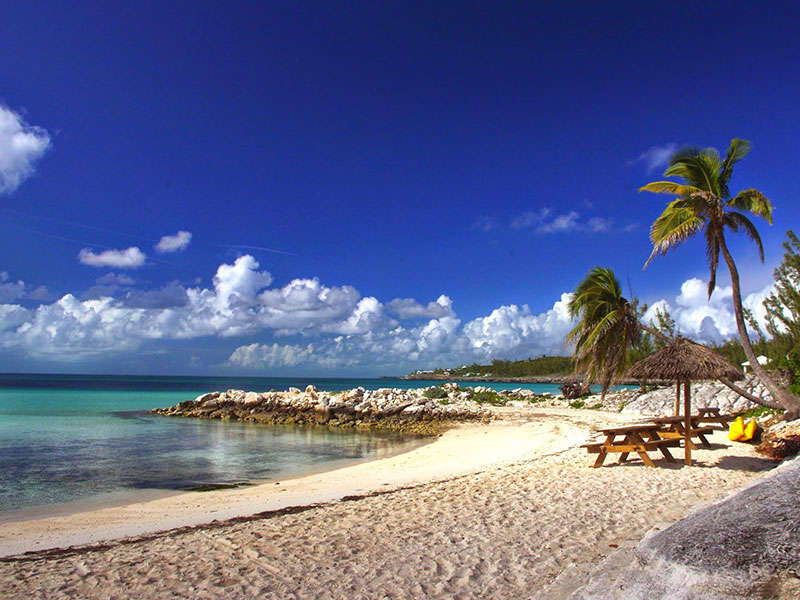 Beaches in the Bahamas: 4 beaches for lovers of silence
Shelling Beach (Berry Islands)
Seeking for a little privacy? Then come to Shelling Beach. There is a small country road to the beach which is nearly inaccessible at rain due to the high number of puddles and mud. On nicer days, though, it is excellent for picnic and swimming.
Shroud Cay
This small, unpopulated island is part of Exuma Cays Land and Sea Park with green mangrove trees and other plants. A stream forming into a river makes the landscape marvellous. Besides, it is worth watching the changes having caused by low and high tides. The best way to explore this special wildland with the help of a local guide or by renting a yacht.
Joulter Cay Beach (Andros Island)
The island of Andros is not regarded as a typical vacation island; although Joulter Beach is one of the best beaches of the Bahamas. It is composed of cemented ooids (called oolite) forming sand ridges which make it quite special in geology. The beach stretching along the northern part of the island is a calm shelter for birds, turtles and other sea creatures. Hence be environmentally conscious while staying here since the island is an ecological basis. It is important to preserve natural values.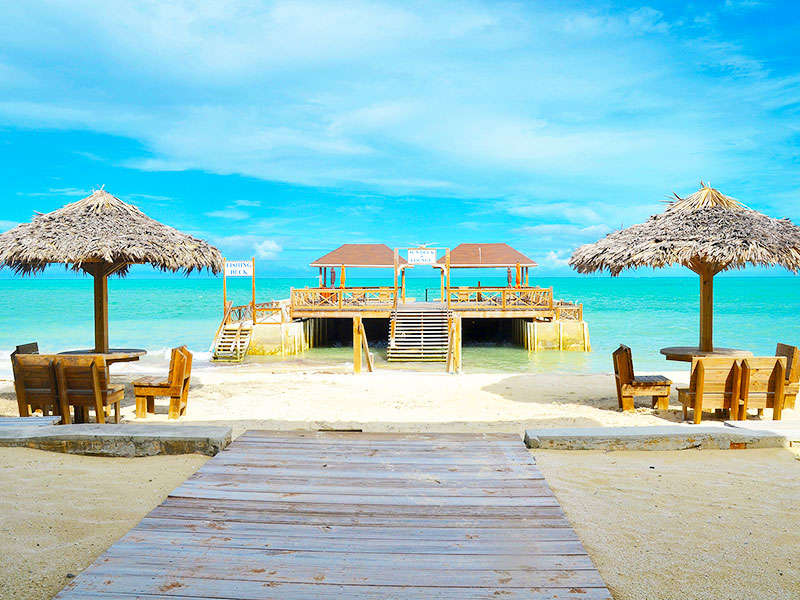 Beaches of Rose Island
Tired of the crowds of people in Nassau? Then visit this small island just 6 miles from the city to the East where you can choose from several small remote beaches. Rose Island is only accessible by boat and lacks all types of luxury. The only place for civilisation is the beach bar because all focus goes on relaxation and recreation.