Cannigione and its neighbouring areas, located in Costa Smeralda, have beautiful beaches. They are not only perfect for sunbathing and swimming, but for watersports such as scuba diving and surfing as well. The best beaches around Cannigione? Choose from the following picturesque places!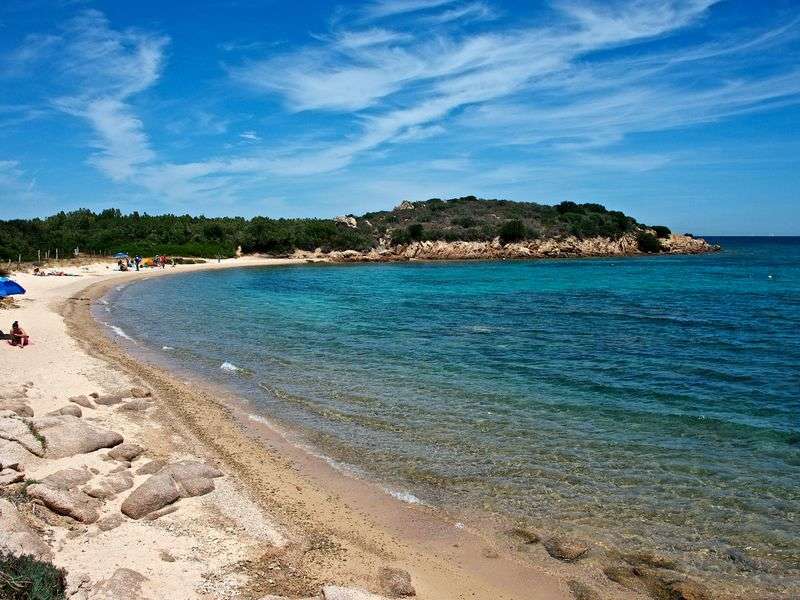 This article gives you an overview of the following topics:
The best beaches in Cannigione
Coasts and bays around Cannigione
The best beaches in Cannigione
Cannigione Beach
The beach of the resort is located near the port. The wide beach is mostly covered by bright sand, and it is surrounded by green flora. The beach has crystal clear water in a versatile range of colour tones; there are rocks emerging from it. As it is fairly shallow, the spot is very popular among families with small children. There is a bar and a restaurant, and you can rent sunshades and loungers. They also offer boats and paddle boats for rent. As for watersports, it is worth trying snorkelling and scuba diving beside swimming.
La Conia Beach
The picturesque shore segment is located in the northern part of Sardinia, in Arzachena Bay, barely 2 kilometres from the popular resort of Cannigione. The neighbouring areas are characterised by rich Mediterranean woods. The beach is fairly small: it is 240 metres long. Thanks to the fine white sand, the beach is ideal for families with small children. They offer services like a bar and a restaurant as well as sunshades and loungers for rent. If you are here, we particularly recommend that you try surfing, snorkelling and scuba diving.
Tanca Manna Beach
The pleasant beach is often called Spiaggia dell'Uticeddu; it is located 3 kilometres to the north from Cannigione. It is 350 metres long and up to 40 metres wide. The sandy beach is surrounded by Mediterranean flora, and you can also explore several rocky bays nearby. From the beach, there is a spectacular view of the island of Caprera, belonging to the La Maddalena archipelago. They offer a bar as well as sunshades and loungers on the well-equipped beach. We particularly recommend it to families with small children, as it is a perfect recreational spot. The beach is ideal for surfing and scuba diving, too.
Mannena Beach
They also call the beach Spiaggia Barca Bruciata. It is located near Cannigione, 4.5 kilometres to the north. It is 800 metres long and there is a fascinating view of the La Maddalena islands from here. The beach is an ideal place for those who would like to relax, as it is never too crowded. The crystal clear water is shallow for several metres long, so small children can enjoy it as well. You can spot randomly situated rocks in the water, making the place ideal for snorkelling enthusiasts. You can go on pleasant long walks along the beach, which has the shape of a crescent. They have a bar, and we can also rent sunshades and loungers for a fair price.
Coasts and bays around Cannigione
Cala Granara (Spargi Isola, La Maddalena)
The La Maddalena archipelago consists of 7 larger islands, but it has about 60 islands overall including the tinier ones. It is famous for its beautiful beaches and protected bays, which have a wonderful turquoise colour. The area is perfect for sailing thanks to the weather conditions. Cala Grama, which can be found on the island of Spargi, is situated in a beautiful natural environment. As opposed to most Sardinian islands, it is surrounded by palm trees and lush tropical flora rather than rocks.
Cala dei Ginepri Beach (Cala dei Ginepri)
The beach of Cala dei Ginepri is covered by fairly large grains of sand and pebbles. It has shallow waters making it ideal for spending a relaxing day here for the whole family. If you don't like large crowds, we particularly recommend this beach, as it never too jammed. If you get hungry, there is a bar and a restaurant here.
Baja Sardinia Beach (Baja Sardinia)
The 300-metre-long Baja Sardinia Beach is among the northernmost beaches in Costa Smeralda. It has white sand and turquoise waters. There is a wonderful view of the La Maddalena archipelago from the beach. Thanks to its perfect location and pleasant wind conditions, it is a popular spot among surfers. Beside the beaches, Baja Sardinia is also famous for its great restaurants and buzzing nightlife.
In this article, we have listed some of the finest beaches around Cannigione. We have presented popular as well as more peaceful bays so that everyone can find the one that's perfect for them.