You have finally arrived and anchored. Sunshine, beach, tequila. You can read about the best and most exotic beaches in Mexico here. You'll be presented with everything from silent places to tourist magnets, from busy places to calmness.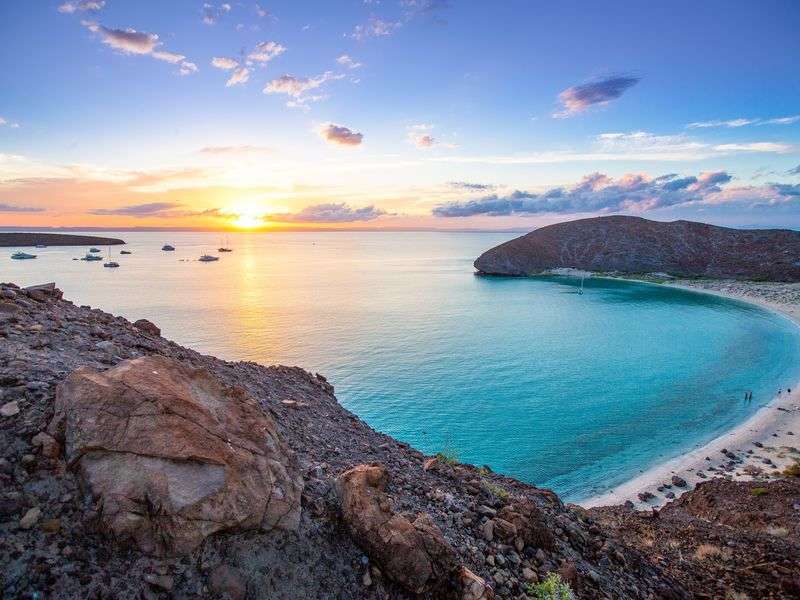 The story summarises the following:
Coasts and bays in Mexico: If you want to hide from the world – some hardly known beaches
Holbox Island
This 25-mile long and 1-mile wide wonderful small island lies about 7 miles from the northern edge of Yucatan peninsula. It is only 100 miles from ever busy Cancún, but you find perfect peace here, no multi-story and busy hotels. Besides bathing the adventurous ones can enjoy the special experience of swimming with whales or even whale sharks, which are the biggest fish in the world.
Rincon de Guayabitos, Nayarit state
You are walking on the Pacific coast of the Mexican Riviera, not far from the popular holiday resort Puerto Vallarta. Unlike nearby Punta Mita, this town has not yet been flooded by celebrities coming for holidays.
You can find a long beach here that is perfect for calm relaxation and holiday. Soft and golden-colored sand and calm waves make this place idyllic for families with small kids. Locals rather come here on weekends or public holidays, the place is never crowded. That is why if you really want a calm holiday, you should come on a work day, mainly in the off-season (August to November).
Mulegé
A silent town at the Cortes Sea in state Baja California Sur. It is at the mouth of the river Santa Rosalia. One of the most beautiful bays of the region, Bahia Concepción, can be found 20 miles from here. Beautiful beaches follow here each other 50 miles long. Just to name a few: Playa Los Naranjos, Playa Punta Arena, Santispac Beach, Playa Escondida, Playa Los Cocos. The water of the bay is warm and calm, perfectly suitable for bathing, snorkeling or swimming. Kayaking is also a popular activity here. There are several smaller islands to discover in the bay (San Ramon island, Isla Blanca, Coyote island) if you have enough time.
Xcalak
The southernmost village of the "Maya beach", close to the border of Belize. This village is on the territory of a national park in the middle of the Great Mayan Reef. It is an excellent venue for scuba diving, snorkeling, but you can even try deep sea fishing. But it is also a perfect place for doing nothing or a calm relaxation.
Punta Bete Beach
A less popular beach of the "Mayan Riviera" is located between Playa del Carmen and Puerto Morelos. It is a place to hide if you don't want others to find you. Everyone can find the conditions that suit him/her best here. You can find a great number of luxury boutique hotels and tiny cabanas (relaxation cottages) there. Sitting on the coast, which is sometimes a little stony and rocky here, you can listen to sea murmuring while you are also watching the skills of surfers.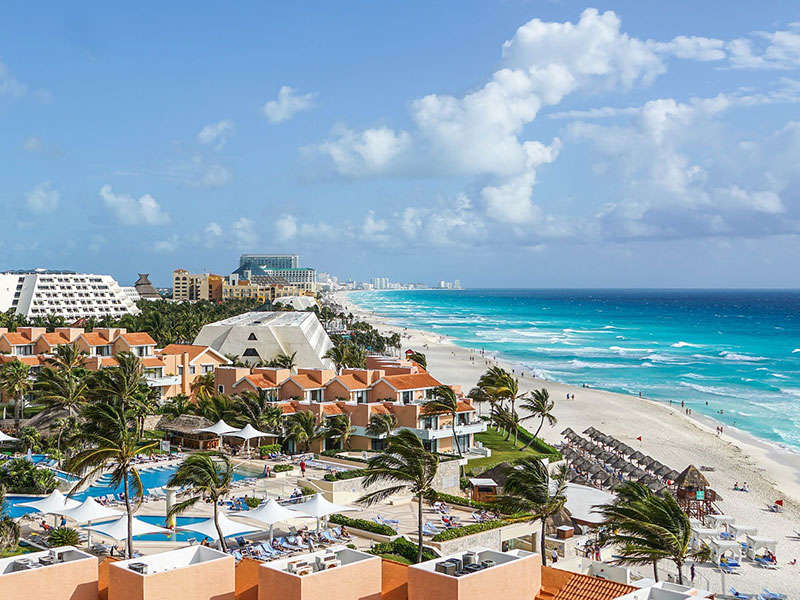 Best beaches in Mexico: The most popular beaches
Cancún
Cancún is one of the most famous holiday resorts in Mexico. If you consider where you find the most holiday options, busy nightlife, and trendy shopping facilities, then Cancún is unbeatable. And if that were not enough, you can find Mexico's most picturesque beach here. Some say this is commercial only. Yet the popularity of the place is permanent, especially for families with kids. Cancún presents so many experiences for everyone that it's no wonder when you have no time left for the exploration of the region's other sights.
Playa del Carmen
Playa del Carmen that is 35 km south of Cancún went through a radical change in the last 20 years. From a simple fishing village it has turned into a place with a hippie atmosphere and by today it has grown into a lively cosmopolitan town. "Playa", as locals and tourists call it, offers many places of accommodation, which range from simple to luxury in quality. Those who want to go shopping could spend a whole day in the famous shopping street in Quinta Avenida. There are many more interesting features of the town and its region, about which you can read more in this section.
Puerto Vallarta
Two Hollywood stars of the 1960s, Elizabeth Taylor and Richard Burton made Puerto Vallarta famous everywhere in the world. It is one of the most beautiful towns of Bahia de Banderas ("Flag bay") coast. Its unmistakeable atmosphere is due to the streets with setts, houses with white walls, balconies of wrought iron and red-tile roofs. You'll be delighted to have a romantic walk along the famous coastal promenade of the city, the Maleco. Besides sunbathing on the beach also those will be entertained here who want to try nice local specialties or their skills in extreme sports.
Tulum
Tulum beach in the heart of the "Mayan Riviera" may be one of the best beaches in Mexico. Tulum's name means a famous archaeological site, a town and its holiday resort region with countless hotels at the same time. This place is one of the favorites of honeymoon tourists, but those who prefer adventure trips will not be disappointed either. The archaeological findings and the cenotes (limestone caves) stimulate you for adventure, though nobody can be blamed if he/she doesn't feel like leaving the beach. You can spend a full day pleasantly at Playa Paraiso or at Mayan Beach.
Cozumel
Cozumel is a holiday island of the Caribbean at the coast of Yucatan peninsula. It is also the main sailing center of Mexico and a number one spot of scuba diving. Divers are attracted here from all over the world by warm, clear and turquoise-colored sea and coral reefs. The island lives from tourism, therefore its tropical animals and plants are protected in two national parks and in a nature protection area.
Acapulco
Acapulco used to be Mexico's major holiday resort from the 1950s until Cancún took over control from the 1980s. But this is still one of the most popular resorts in the country. The place has a nostalgic power. The Hollywood stars that make holidays or relax in Acapulco are still remembered, for example, Elvis Presley shot a movie here. Non-stop nightlife, shopping centers, and restaurants make each hour spent here enjoyable. Of course, there are many beaches here, Playa Tlacopanocha with its exotic name or Playa Tamarindos with its exceptionally beautiful view are enough to mention. You can find more than 20, we don't even try listing them all.
Don't miss that!
Crescent Bay, Akumal
Akumal between Tulum and Playa del Carmen is a wonderful beach, where beyond swimming you can also do snorkeling and kayaking. The protected water of the bay has a rich fauna including e.g. barracudas, many kinds of fish, turtles and even a shark species that is harmless for people.
San Agustinillo, Oaxaca
The Pacific coast of state Oaxaca is full of beautiful beaches that have so far avoided the disadvantages of mass tourism. San Agustinillo, a charming fisherman's village, for example, can be found here. The sand of the beach is golden-colored and the sea is azure. Locals offer organised trips by boat for tourists to watch sea animals. Sea turtles are special at Escobilla nature protection area nearby, but you can also spot crocodiles at Playa Ventanilla. Palapa-style (reed-roofed) restaurants and buildings of the region are also famous.