Despite its isolatedness and small size Montenegro will offer very diverse beach options for all tourists. This small country with a Mediterranean climate surrounded by the Dinaric Alps has so far been protected by the masses of tourists. It is an excellent choice for those who want to spend a quality holiday in a calm environment. Along with its almost 300 km coastline, you can find many hidden romantic bays with cliffs. Considering its beaches it's versatile because it hosts the most special beaches of Europe covered by sand and pebbles. The following story lists the most popular beaches in Montenegro from north to south.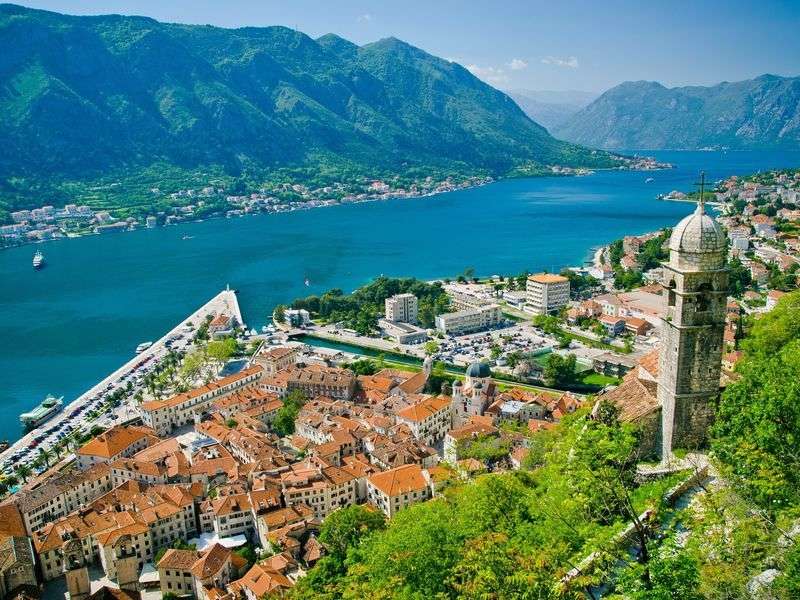 Beaches in Montenegro: Dobrec – Robinson beach
Dobreč bay is a silent little Paradise that tourists are no so familiar with. It is only accessible by boat. The simplest way is from Herceg- Novi, thus if you visit the town, it's really worth going there. At Robinson beach of Dobrec bay, you have every chance for a calm relaxation. Here you can really feel like as if you had moored at an uninhabited island. Visitors can enjoy the medium slowly deepening crystal clear water and the coast with tiny pebbles. The beach is only 70 meters long, but its charm is clearly in its small size. You get the chance to rent a sunbed at the coast and you can also taste fresh fish in the small bar beside traditional Montenegrin specialities.
Plavi Horizonti
This beach is located on Lustica- peninsula, south of Tivat
town. It is a beautiful coast section decorated with Blue Flag. It offers a wonderful experience in many terms of services and the water quality is also said to be excellent. Due to its shallow coast and crystal clear water, it can be called an ideal choice for families with small kids or couples who want to relax. Lovers of sports can try scuba diving, but a simple diving glass may be enough to admire the rich and colourful living world under water. If you visit Plávi Horizonti beach, you'll surely not get bored. It is considered to be one of Montenegro's most beautiful and most peaceful beaches.
Sveti Stefan
The tiny island of Sveti Stefan is very close to the city of Budva and has become one of the most popular tourist destinations in Montenegro. The beach of Sveti Stefan has two parts. The left side is open for public and you can also rent sunbeds here. The right side is a private beach that is only available for hotel guests. The public beach of the island is at the end of the pier, from where you get a fantastic view to the special red-roofed buildings and the crooked streets. It is an amazing experience to walk between the beaches with white sand and the first class luxury hotels.
Beaches in Montenegro: Jazz Beach
3 kilometres from Budva in the direction of Tivat you find one of the longest and busiest beaches of Montenegro that is Jazz Beach in Budva. The beach offers plenty of opportunities for those who love a busy life and music. This is the venue of Sea Dance Festival that takes place here every year. The approx. 1,200 meters long Jazz Beach is covered by small pebbles and the beach is full of cafés and restaurants. Besides, it is a popular resort for lovers of water sports because you can try from surfing, water ski, windsurfing, etc.to anything here.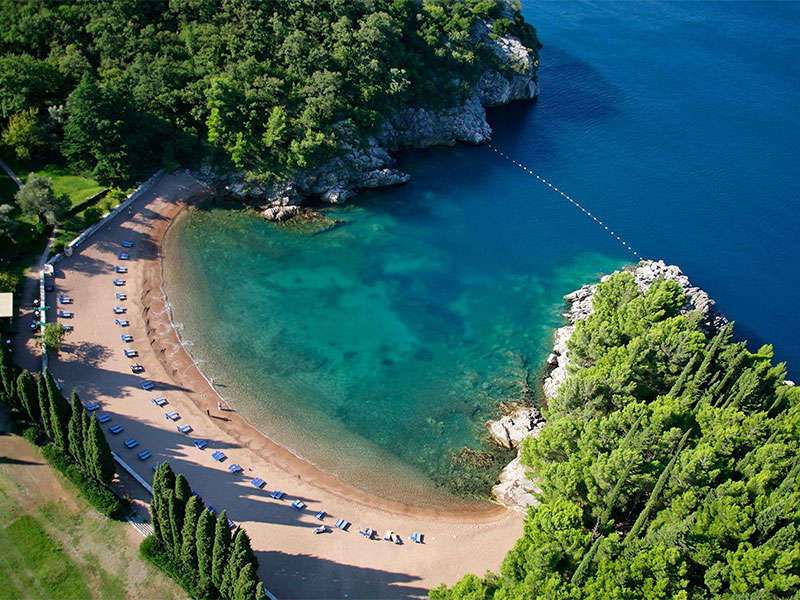 Bečići
The beach Bečići is separated from the busy town of Budva by a wonderful peninsula. This beach is calmer than the most popular beaches of Montenegro, however, it is still very attractive for holidaymakers. Bečići bay is surrounded by mountains and crystal clear water and it is a long sandy beach that may be at some points even 100 meters wide. You can try several water sports here from kayaking to surfing. If you walk on the coast, it's really worth trying special ice creams that can cool you down perfectly on a hot summer day.
Beaches in Montenegro: Mogren
Mogren is one of Montenegro's beaches with golden sand that is divided into two by an enormous and beautiful mountain. Those who swim here can also discover a cave that connects the two beaches and those who have enough courage can also climb the mountain that divides the beaches. If you want to climb this rocky mountain, you'd better wear suitable shoes for that. Mogren beach is only 150 metres from the old town of Budva. You can have a great time here and try one of the many entertainment facilities or just enjoy your calm relaxation.
Petrovac
The 600 metres long sandy town beach of Petrovac are both visited by tourists and locals due to its turquoise-coloured water and rustical old town. In the summer months, it becomes a really busy and lively tourist hub with pleasant cafés, restaurants and beaches covered by golden sand. Thanks to the ever-growing nightlife younger tourists can also spend absolutely exciting holidays here. The coast gets gradually deeper, thus large waves are regular and they can reach a size resembling the ocean. You can rent parasols and sunbeds at the beach, while the coast is completely empty elsewhere. Here you can feel like creating your own beach empire. The neighbouring Lucice and Buljarica beaches are within easy reach from Petrovac.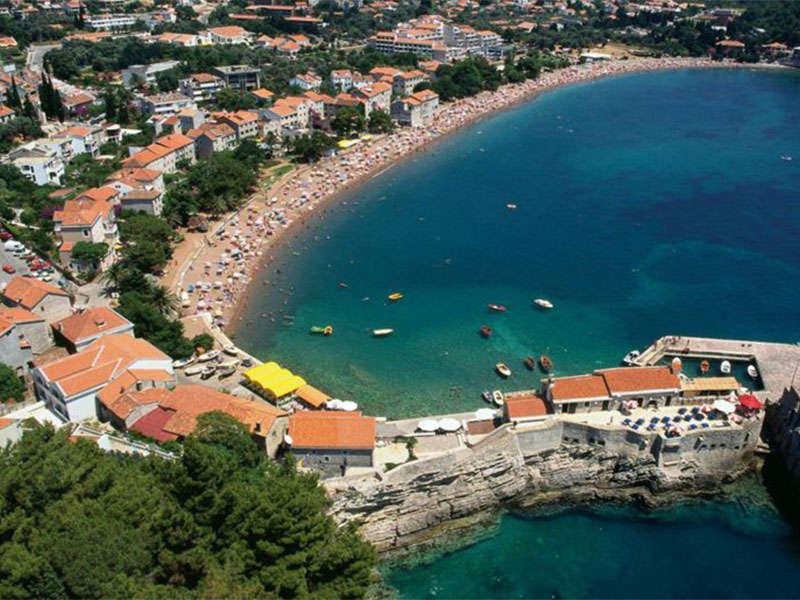 Beaches in Montenegro: Petrovac – Lucice
Lucice beach, which lies in the neighbourhood of town Petrovac is very popular among locals and tourists visiting Montenegro. Despite its popularity, it has preserved its intact and original state, therefore it is an outstanding example of pleasant and intimate beaches in Montenegro. The bay itself can be found in a beautiful environment surrounded by various pine trees, cypresses and olive plants that make sure you find shelter in the summer heat. Due to the shallow water, it can be an ideal choice for families. You can rent smaller boats and water paddles directly at the beach. There are several hotels, bars and restaurants in the direct neighbourhood, where you can buy refreshment drinks or local food specialities during the daytime. You can also enjoy the sunset in a bar listening to live music.
Lake Scutari
Let us have a look at one of the most southern travel proposals, that is lake Scutari. This is a wonderful freshwater lake near the border of Albania and Montenegro. In the 13th century, this region used to be part of the antique Slavic Zeta kingdom. The lake was nominated for the UNESCO's World Heritage list in 2011. Far from the popular tourist routes, the beach of the lake can be found in a peaceful and calm environment. Visitors can hide a little from busy city life and running, thus enjoying the really peaceful and silent side of Montenegro.
Beaches in Montenegro: Mala Plaža
Last, but not least here is Mala Plaža beach that is in the very south of Montenegro near Ulcinj and a smaller copy of huge sandy beaches. Here you can feel the real Mediterranean atmosphere, as the beach is on the plage. This small beach can be a little crowded in main season, but it gives you a real Mediterranean experience. The beach is even busier at night when all tourists and locals gather here. The illuminated old town and the bay give a special view at night. Local entertainment facilities open after sunset, where icons of Balkans pop music also often give a show.
Try each of these wonderful beaches from Herceg- Novi to the southern border. No matter what the ideal beach means for you, you'll surely find it in Montenegro.