Do you love to sunbathe and swim in picturesque natural surroundings? Then Costa Brava is the perfect choice. It has a long coastline where popular beaches and hidden, charming little bays are waiting for you. The best beaches in Costa Brava? We will show you all the beautiful places you can visit!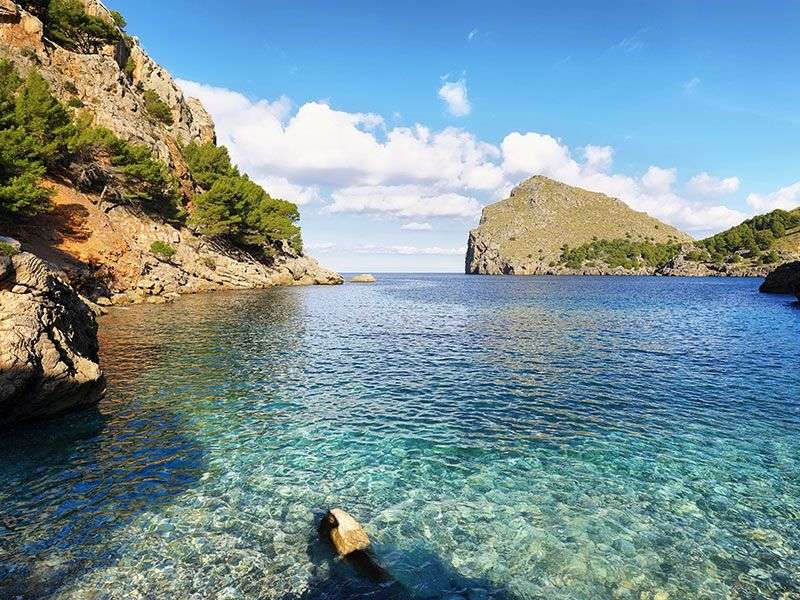 The article gives you an overview of the following topics:
Best beaches in Costa Brava: The most popular beaches
Roses
This family holiday destination has an excellent beach. There is a waterpark close by, the Aquabrava. It is considered the best in the region. The city also has cosy restaurants as well.
L'Estartit
The coast of L'Estartit is wide, long and sandy, making it ideal for families with small children. This beach is the main attraction of this resort. The Medes Archipelago is only 2 kilometres from here. It is a paradise for scuba divers thanks to its rich deep-sea fauna. There are several diving schools where you can rent equipment, and you can also go kayaking and water skiing.
Palamos
Palamos has a 3 kilometres long sandy beach. There is a waterpark only 8 kilometres away, the Aquadiver. It is a place for all ages where you can choose from 17 different slides.
Lloret de Mar
The coastline of the city is clean, pebble-sandy, but the water deepens immediately offshore. The main beach is quite big, 1,5 kilometres long, but it is crowded in the summer. If you choose to visit here, you should discover the bronze statue of Dona Marinera at the south end. The sculpture represents a woman greeting the returning fishermen. In the western part of Lloret de Mar, you will find the 700 metres long Fenals beach, which is much quieter and more peaceful than the main beach. Further west you can discover the Boadella and Treumal beaches. The latter is the best and most beautiful beach in the area. Lloret de Mar is east of Canyelles. Due to its location, it is one of the quietest beaches.
Water World waterpark
The resort has a huge, excellent waterpark, the Water World. Although it is quite crowded and you have to wait in line to get in, it is a lot of fun. Children and adults will have a great time here. There are slides for the little ones, but the waterpark also offers very fast, scary slides for adults.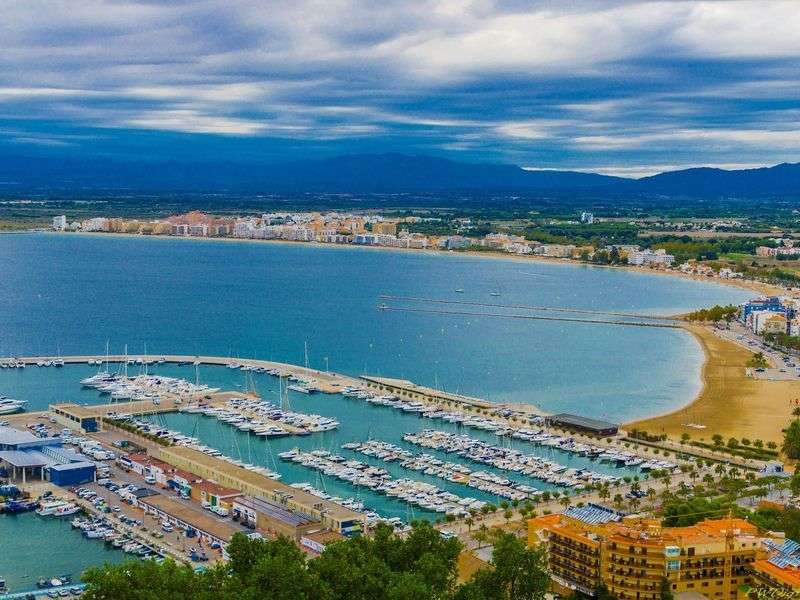 Coasts and bays in Costa Brava: Hidden gems
Tossa de Mar
The city beach, Playa Gran is located in a picturesque place, but the Mar Menuda is also an excellent choice. The advantage of Tossa de Mar is that its immediate surroundings stayed untouched. Thanks to this, there are many beautiful, quiet, hidden bays. One of these is the horseshoe-shaped Cala Giverola. It is 170 metres long and 15-50 metres wide. There is a bar and water sports facilities are also available. The small, rocky Cala Bona bay is easier to reach, but it is more crowded. Due to its size, it is not suitable for sunbathing, but it is perfect for swimming and snorkelling. Among the bay's south-west of Tossa de Mar, we have to mention Cala Llevado where a campsite is available for guests.
Cala Futadera
Cala Futadera is 6 kilometres north-east of Tossa de Mar. It is located in a 100 metres long and 10 metres wide bay. The crystal clear water is perfect for snorkelling. However, it is worth noting that there are no services here.
Llafranc
Are you looking for a relaxing and peaceful holiday? The idyllic Llafranc is the perfect choice. It has a clean, sandy beach, and the water is slowly deepening, so it is perfect for families with small children. If you would try the delicacies of local gastronomy, choose from Catalan dishes and order a glass of Sangria, too.
More beautiful beaches in Costa Brava
Blanes
The main beach is to the right of Sa Palomera cliff. The beach is sandy, 650 metres long and 30 metres wide. There are bars, restaurants, sun loungers and water sports facilities available. To the left of Sa Palomera, you can find the S'Abanell beach. It is a 2,2 kilometres long and 60 metres wide coastline. As the main beach, it offers all kinds of services and entertainment options.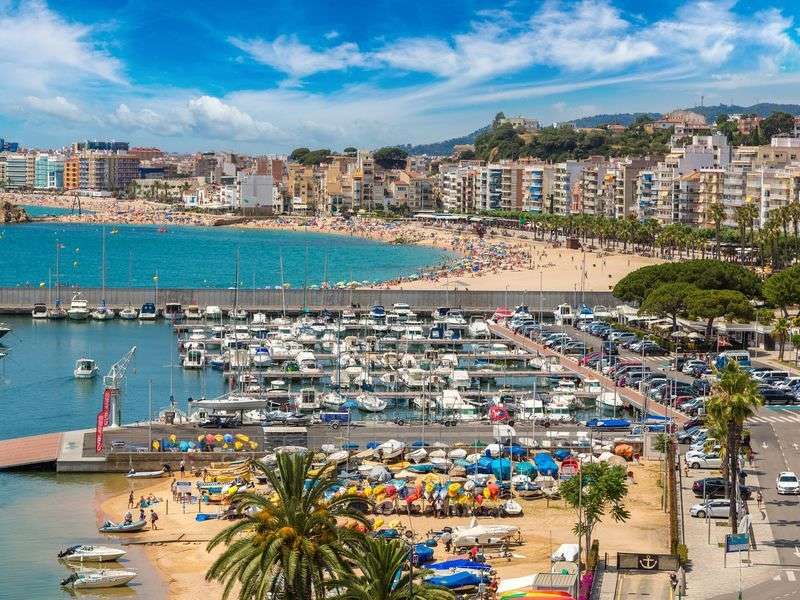 Cala de Sant Francesc
This pebble beach is also called Cala Bona. It is in walking distance to Marimurtra Botanical Garden. It is smaller than the other two beaches, Sa Palomera and S'Abanell, just 220 metres long. However, you should visit here because it is located in a beautiful bay. It is especially popular with locals.
El Masnou
The largest and longest beach is Ocata, the smaller is Platja del Masnou. The former is 2500 metres long and 133 metres wide. You can choose from a number of services. The beach has a Blue Flag certification. Between the two beaches, there is a large port where many expensive restaurants await you.
Barcelona
The city's cosy, well-equipped beaches stretch over 5 kilometres. They have beautiful, golden sand and thanks to their size they are perfect for sunbathing, swimming and trying all kinds of water sports. If you are looking for a quieter place we recommend the Nova Icaria beach. It is 415 metres long and 81 metres wide. This beach is very popular among families and groups of friends.
There are many sports and dining options to choose from. The beach offers services like changing rooms, lockers, sun loungers and sunbeds. The Bogatell beach is north-east of Nova Icaria. This coastline is 700 metres long and 100 metres wide. It is also well-equipped, with many services. The beach has Blue Flag certification, and it is especially popular with middle-aged and older generations, and families as well.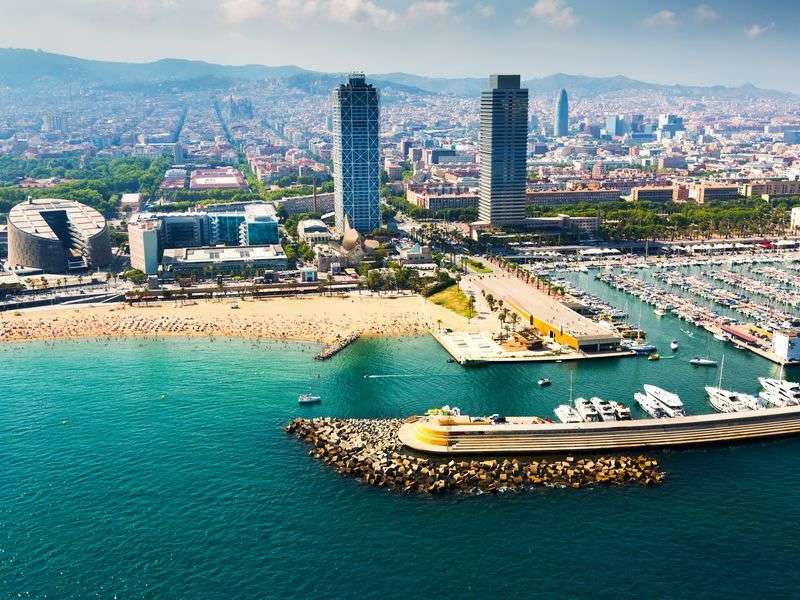 Mar Bella és Nova Mar Bella
The Mar Bella and Nova Mar Bella are also among the Blue Flag-certified beaches. The former is very popular with youngsters, but many locals come here, too. It is 512 metres long and 71 metres wide. This peaceful beach is well-equipped, but there are not too many restaurants to choose from.
The Nova Mar Bella is the quietest and most beautiful beach in Barcelona. It is 420 metres long and 87 metres wide. It has many services to offer like showers, parasols and sun loungers. Safety is provided by lifeguards.
Barceloneta Beach
This is the most popular and most famous beach in Barcelona. It is 422 metres long and 79 metres wide. Since Barceloneta is the closest to the centre, it is extremely crowded. There are showers, changing rooms, lockers available, and you can rent parasols and sun loungers as well. In the summer season lifeguards keep visitors safe. If you get hungry, you can choose from many restaurants and buffets.
Begur
You can swim in gorgeous surroundings when you visit the pearl of Costa Brava. The sandy Aiguablava beach is one of the best and most beautiful destinations. But you should know that it is quite crowded in the summer. If you are not bothered by the lack of services, you can choose the pebbly-rocky beach, Platja Fonda. Sa Tuna is also a great place to be.
If you like different kinds of beaches, Costa Brava is the perfect choice for you. You can find sandy and pebbly beaches here as well. Choose from the beautiful locations we have introduced to you in this article.