The city has a shore segment of more than 4 kilometres. It offers many breathtaking places, for instance, S'Abanell; a beach with golden sand and impressive size. The best beaches in Blanes? Choose one of the well-maintained and safe places, which are perfect for sunbathing, swimming and doing watersports.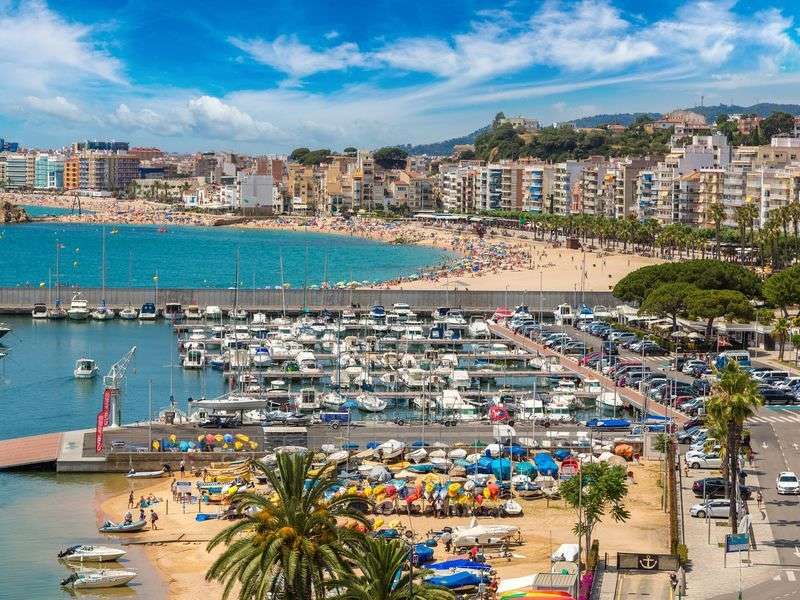 This article gives you an overview of the following topics:
The best beaches in Blanes
Platja de Blanes
The beach, which has golden sand, can be found in the city centre, right next to the port. Its neighbour on the left is the Sa Palomera rock, which separates the place from the beach of S'Abanell. It is 650 metres long and 30 metres wide. They have sunshades and loungers, there are bars and restaurants, and we can even play beach volleyball.
S'Abanell
S'Abanell is the longest beach in Blanes with a length of 2200 metres and width of 60 metres. It has golden sand, and it offers services similar to the ones offered on the main beach. You can try surfing, waterskiing and sailing. Explore the booths on the boardwalk; they sell handcrafted jewellery, among many other things.
Coasts and bays in Blanes: breathtaking beauty
Cala Punta de Santa Anna
The bay of Santa Anna is also known as "Playa Els Capellans". It is located about 300 metres from the centre of Blanes, so it can be reached by a pleasant walk. The sandy and pebbly beach is 110 metres wide and 15 metres long. The crystal clear water is perfect for snorkelling and scuba diving.
Cala de Sant Francesc
Cala de Sant Francesc or Cala Bona is a beach situated in a bay of picturesque beauty. It is 220 metres long and 35 metres wide. The beach and its quiet water is surrounded by pines. There are showers, loungers, restaurants and lifeguards. It is suitable for families with children. As it is near the Marimutra botanical garden, it feels particularly great to relax on the beach after a nice walk there.
Platja de Treumal
It is the northernmost beach, located 4 kilometres from the centre. It is tiny, with a length of about 100 metres. There is a rock separating the place from Santa Cristina beach, which belongs to Lloret de Mar. You can find showers and restaurants here.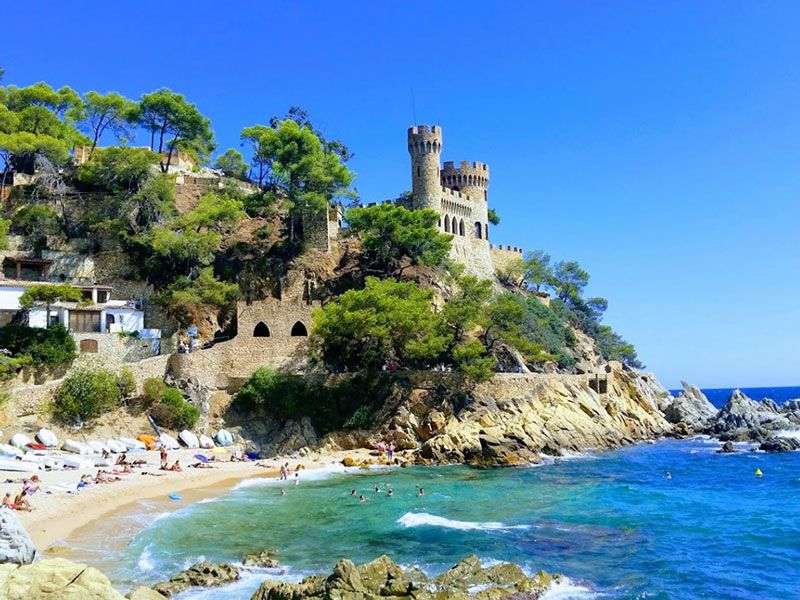 More beautiful beaches around Blanes
Lloret Beach (Lloret de Mar)
This is a popular place with a clean, pebbly-sandy beach; the water here is rapidly deepening. The main beach is 1.5 kilometres long, but despite its large size, it is very crowded during the summer season. You can find the bronze statue of Dona Marinera in the southern end; it depicts a woman greeting returning fishermen.
Playa Gran (Tossa de Mar)
As it is located in the centre, this is the most popular beach in Tossa de Mar. Playa Gran has the shape of a crescent, and it is around 385 metres long. It is bright, its waters are quiet, and they offer great equipment. The beach has a Blue Flag certificate, and it was even included in National Geography's list of the best 25 beaches in the world in 2013.
Cala Giverola (Tossa de Mar)
The horseshoe-shaped bay is 171 metres long, and it has a width of 15–50 metres. There is a bar here, and you can also choose from different watersports. If you visit the place, you must try scuba-diving. The water is deep enough to explore the underwater world.
It is not only Blanes that has great beaches, but Lloret de Mar and Tossa de Mar nearby as well. They are situated in a beautiful natural environment, and exploring their sea life will be a wonderful experience. Choose from the popular beaches and quiet bays listed in the article.