In the city and in its neighbourhood, you can explore several beautiful beaches. Sandy shore segments and crystal clear, shallow water await visitors. Best beaches around Alghero? We are going to show you some buzzing places as well as and more peaceful spots.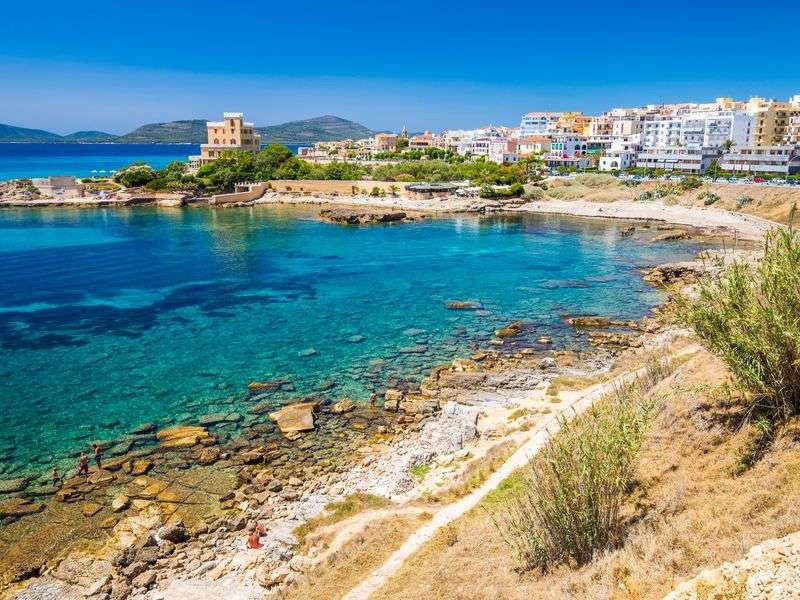 This article gives you an overview of the following topics:
The best beaches in Alghero
Spiaggia del Lido di San Giovanni
You can access the city beach of Alghero easily on foot. There are great bars and restaurants along the boardwalk. It has a 1.5 kilometre-long white sandy beach. You can see the Marina di Sant'Elmo port and the small island called Isolda della Maddalena from the beach. Locals and tourists both love this shore segment. It is also popular among families with small children.
Spiaggia di Maria Pia
The beach can be found a few kilometres away from the centre of Alghero to the northwest. They regard is as one of the most beautiful places in the area. It is 1200 metres long, and it provides a great view of Fertilia, the Bay of Alghero and the little island, Isolda della Maddalena. It has white sandy shores and shallow water, so you can also visit it with kids. They have sunshades and loungers, and you can buy a refreshing drink or an ice cream at the snack bars. You can even visit the pines behind the beach for a picnic.
Coasts and bays around Alghero: Breathtaking beauty
Spiaggia della Speranza
La Speranza – officially called Poglina – is 8 kilometres to the south from Alghero. This is one of the most beautiful and peaceful beaches in the area. The long and narrow shore segments have pebbly and rocky parts as well. The sea water is shallow, making it ideal for families with small children. Besides scuba diving and snorkelling, it is also suitable for surfing in windy weather. If you would like to try the local specialities, you can choose from the fresh fish meals in the restaurant La Speranza.
Spiaggia di Mugoni
This beach is located 15 kilometres to the northwest from Alghero. It has a 1.5 kilometre-long shore, and it provides a beautiful view of the Parco Naturale Regionale di Porto Conte National Park and the mountainous landscape near the village Tramariglio. The place is so wonderful that it is often compared to the beaches in Thailand. There is crystal clear water and golden sand here. The beach is well-equipped; we can rent sunshades and loungers. We can get a refreshing drink and have a snack at the Le Ninfe bar. If you visit the place, you should try snorkelling and scuba-diving.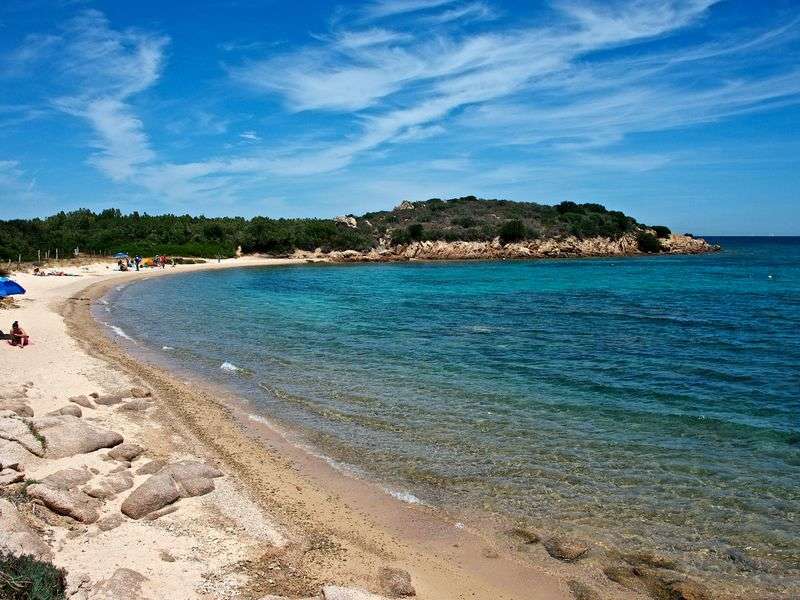 More beaches around Alghero
Spiaggia della Speranza
This spot is located near the Le Bombarde shore segment. It can be found between Fertilia and Porto Conte. The beach is small, only 300 metres long. The shores are sandy, covered with rocks. It is recommended for families with small children as well. There is a wonderful view of the Torre del Lazzaretto from here, built in 1580. The spot is ideal for kayaking, snorkelling and scuba diving, too.
Spiaggia delle Bombarde
It is the most beautiful beach on Sardinia according to many. 500 metres high, with white sand and especially blue water. It is divided into two parts: the southern one is a private beach, while there is a public beach on the other, larger half. The latter might be very crowded during the main season. They have sunshades and loungers, and there are snack bars nearby. It is a famous place among families with kids.
Spiaggia di Fertilia
It is located 4 kilometres from Alghero. There is a small lagoon behind the one-kilometre-long beach: Stagno di Calich. The beach is mostly sandy with a few rocks. The water is shallow and clean. There are great restaurants and bars in the neighbourhood. If you visit the place, you can go surfing, sailing, snorkelling or scuba-diving.
Spiaggia di Porto Palmas
One of the most western islands of Sardinia. It is located near Palmadula, north of Argentiera. The beach is small, only 130 metres long. Thanks to the shallow and clean water, it is ideal for families with small children. There is a bar on the beach that is open every summer. We can do snorkelling or scuba diving here.
Alghero boasts beautiful beaches. It has a marvellous landscape and a unique sea world. Choose one of the beaches introduced in this article, and you will definitely not be disappointed.