Five beaches represent Kvarner Bay on the top 20 list of Croatia's beaches: Vela Plaža and Stara Baška beaches of Krk island, Zrće Beach of Pag island, Sunčana uvala of Mali Lošinj and Rajska Plaža of Rab island. If you look for busier holidays, you can find the typical coastal bustle and murmur in many beaches. But also those who prefer low key atmosphere and intimacy will find many small villages here, where life is silent. In the bays of uninhabited islands, you can even find full solitude. It is this double nature of Kvarner bay that makes it such an excellent destination. Everyone can find his/her place there. Come and find here your ideal coast section for relaxation and holidays.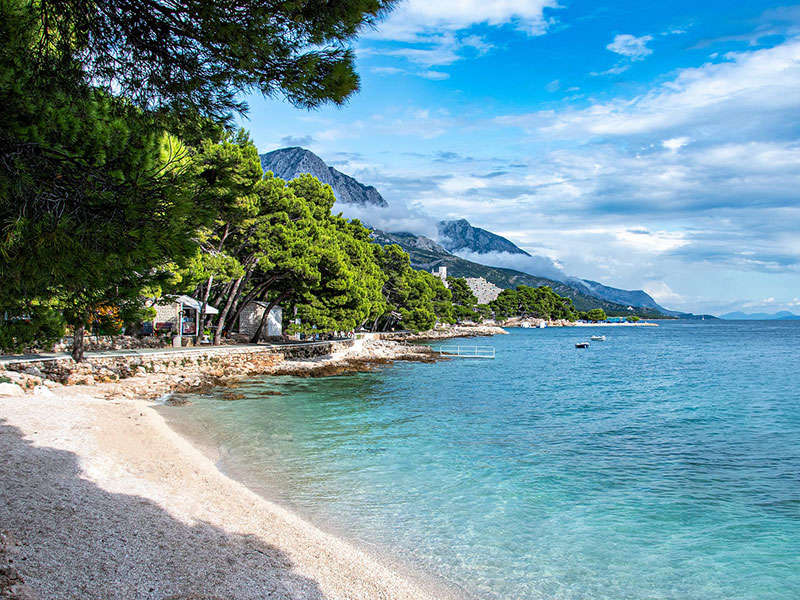 In this story, you can read about the beaches of islands and rivieras in Kvarner bay. Where it's worth mentioning, you'll also see why a particular beach is special, famous or why it can be interesting for you.
Some beaches in Croatia are distinguished by a blue flag, which symbolises the clean nature of sea and the beach's preserved and well-maintained environment. Beaches are supervised each year, therefore owners make sure to keep and develop beach quality and services.
The vast majority of beaches in Croatia are covered by pebbles or rocks. It is very important to wear beach sandals and a thicker sun bulrush or mattress can be useful too.
Coasts and bays in Kvarner-bay: Cres- island
Cres-island is the most beautiful island of the Adriatic region. Its coast is very articulated, there are many hidden bays and beaches with pebbles there. Its flora is densely covered by Mediterranean plants and the sea is crystal clear. Beli is a tiny romantic village that lies on a hill with a port, a wonderful beach and a restaurant underneath. The campsite Slatina is in village Martinscica, where one of the most beautiful beaches of the island can be found. You have a 500-metre long coast with white pebbles and the sea is getting deeper gradually.
Uvala Meli is one of the most hidden beaches of the Adriatic Sea near Ustrine. It is ideal for children due to its sandy beach and shallow water.
Beach Sveti Ivan-Lubenice is located in a tiny bay. It is a beach with white pebbles and it never gets crowded. Valun is a tiny fishermen's village with two beaches with pebbles. There are several beaches in this village for naturists.
Beaches in Kvarner-bay: Krk island
Very beautiful beaches expect swimmers on Krk island. The coast is articulated, there are small bays, nature is often untouched, the sea is crystal clear. You can find beaches with pebbles, cliffs, sand, and concrete. You can basically swim on the whole coast of the island, but the environment will change. There are artificial beaches, free beaches and rustical or natural coast sections. Punat is a heaven for lovers of water sports.

Baška
Vela Plaža that means Big Beach lies on the southern coast in the centre of Baška village. It is 1,800 metres long and covered by sand. It is perfect for kids and non-swimmers. The other beach is Stara baška covered by pebbles that are amazingly beautiful and very popular due to its natural setting. There are several romantic bays near Baška if you want to swim without the crowd. Naturist beach Bunculuka is about one kilometre from Baska and you find another one called Rajska plaza in Malinska.
Krk
The island's greatest beach range is in Krk town and its direct neighbourhood. The majority of the best equipped and best-served beaches can be found here, e.g. Plaža Porporela Ježevac, Plaža Dražica, and Kornić. Politin is a naturist campsite and beach.
Drazice beach is in a beautiful bay and you can take your dog swim there too. Zarok is also a beach for dog friends.
In Soline bay you find beaches with sand and medicinal clay. The medical clay beach of Meline near Čižići village is a special experience because people get black from the mud and look very funny.
Coasts and bays in Kvarner-bay: Losinj- island
Many wonderful beaches, bays and coast sections give you an opportunity to relax at Losinj island. The beaches are typically covered by pebbles, stones or concrete. Many of them have a playground or the possibility to rent equipment. Veli zal Beach that lies in Suncana Uvala (Sunny Bay), only one kilometre from the centre of Mali Losinj, is ranked on the top list of Croatian beaches in the internet. It is a very well-equipped beach, which is also a sports centre.
You need to visit these places too
The famous 200 metres long pier that local fishermen bind their boats to can be found at Veli Losinj in Rovenska-bay. The beach Barakuda with pebble-covered access to the sea is in this bay. Valdarke beach with a wonderful view is in Mali Losinj. Kadin is also here, which is mostly covered by cliffs and concrete with lavish plants around. No animals are allowed on the beach. There are eight beaches in the island, where you can take dogs. These beaches have dustbins and bags, e.g. Veli Zal, which is also great for families with small kids. is. You find long sandy beaches in Cikat bay. Those are ideal for those who want to do sports or want to relax in a comfortable way.
Beaches in Kvarner-bay: Pag-island
There are good and exciting beaches in Pag island. You can make your choice from party, romantic or family beaches. Besides, you also find many hidden bays on the coastline that is almost 300 kilometres long. Scuba diving possibilities are excellent near the coast. They are in total calmer than the Croatian party islands nearby. A special geographical feature is that the beaches do not face the sea straight, because the majority of them are located in a small bay of the coastline that has so many island extensions. The longish Zrće Beach with pebbles is ranked on the top list of Croatian beaches. This is the ultimate party beach in Croatia. It is also called "Croatian Ibiza". The beach party starts in the afternoon and lasts until morning with professional DJs.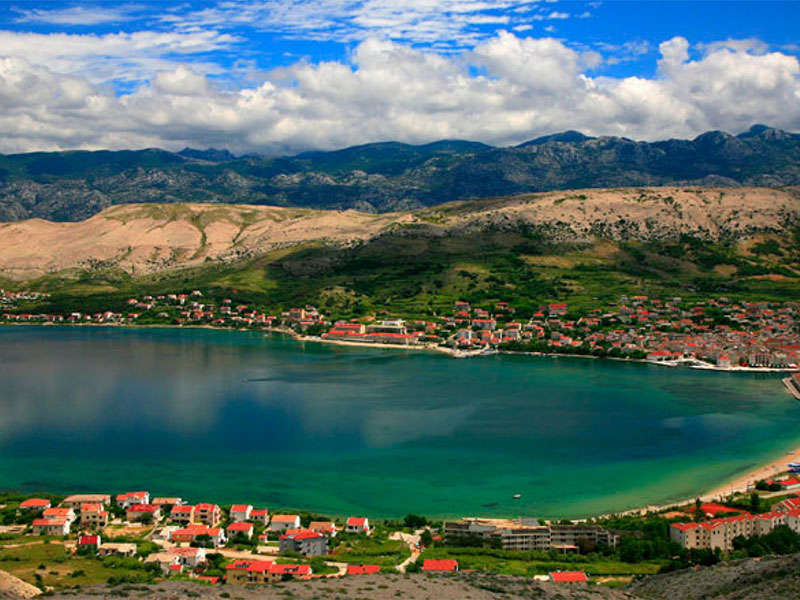 Fascinating beaches
The versatility of the island is represented by the fact that one of the most romantic beaches of Croatia is also here. The white pebbled beach Ručica near village Metajna.
There are two excellent sandy beaches in the island: the marvellous Sveti Duh that is five kilometres long and the well-maintained and equipped Trincel. The famous naturist beach and campsite Straško is also very popular at Novalja.
Coasts and bays in Kvarner-bay: Rab island
Many people think Rab is the most beautiful island of Kvarner bay, full of picturesque bays and wonderful beaches.
Rajska Plaža (Eden/Paradise Coast) that is two kilometres long and to be found at holiday resort Lopar is on the top list of Croatian beaches. This family-friendly beach that has fine sand, shallow water, crystal clear and warm sea (around 28 degrees in the summer) is very popular. You can also find water sports opportunities, sports facilities, bike path, scuba diving school as well as scooter and water paddle rental here. There are actually 22 beaches in Lopar including the most beautiful naturist beaches of the Adriatic region, Stolac, Ciganka, and Sahara.
TOP Beaches
Pudarica beach that is 10 kilometres from Rab is on the top list of best party beaches in Croatia. The pretty Santos beach club focuses on parties day and night.
The oldest naturist beach of the Adriatic Sea Kandarola is on Frkanj-peninsula. There are sandy beaches in Supetarska-bay and the area is also suitable for scuba diving. Discover near cape Sorinj the amphora freight of a sunken Antique yacht.
Beaches in Kvarner-bay: Opatija Riviera
The water is a little colder here than at other beaches of the Riviera, because of the Ucka-mountain. Tomasevac beach in Opatija is sandy, some parts of it have concrete and sunbathing equipment is available for rental. As it is next to Lungomare promenade, you can enjoy all the advantages of it, for example, numerous restaurants and bars. The Lido is a sandy beach with many entertainment facilities, e.g. restaurants, volleyball courts, water sports equipment, and sunbathing equipment rental. An open-air stage with concerts and performances is also in its neighbourhood. The probably most popular beach of Opatija is Slatina, which is also the venue of cultural events.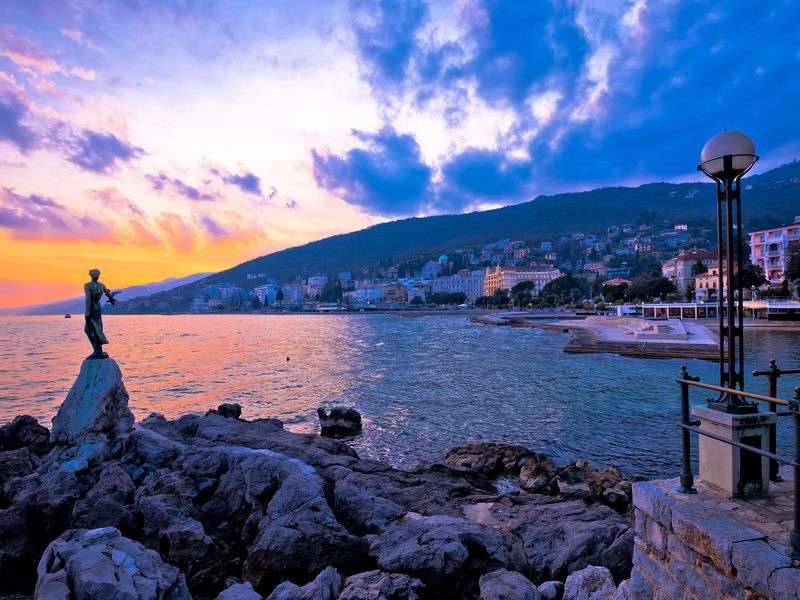 Beaches in Kvarner-bay: Rijeka
Kostanj beach of Rijeka is the first one in Croatia that was specially created for persons who are seriously or relatively seriously physically challenged.
You find classical family friendly beaches in the wonderful Crikvenica Riviera. The eight kilometres of the really long coast offers all kinds of beaches: cliffs, pebbles, sand, concrete and natural. Most of them have a sandy part with a playground, beach volleyball, tennis, badminton, mini-golf court, scuba diving centre, water paddle, jet-ski rental, etc.
The main beach of Crikvenica is 200metres from the town centre and it is ideal for all ages and also for physically challenged.
Visit these beautiful beaches too
The most popular ones from Dramalj's small beaches are the ones that are on Kacjak peninsula. The majority of them are covered by pebbles and cliffs, but sometimes they have concrete sections too. They are really ideal for families. In the neighbourhood of the beach, you find some smaller bays that, where naturists are present.
Klenovica is a small fishermen's village. Its beach is covered by pebbles or partly by cliffs and the sea is a little colder here because springs run into it. Many people think you find Kvarner bay's most beautiful and cleanest beaches here. The environment is also good for scuba diving and underwater harpoon fishing. If you are lucky, you can also watch dolphins at the coast.
It is a fascinating experience to swim in Kvarner region. Feel welcomed by strong sunshine, transparent and clear sea, the sight of Mediterranean nature around you and a special meal on your plate. No matter if you are young or old, if you come with your partner or with a group of friends, you'll be able to find the ideal coast section, where you can relax and enjoy yourself.