Although it's the southern part of Lake Grada that is recommended for swimming, it's northern part also boasts some must-see places. Here, however, temperatures– including water temperatures– are a few degrees lower. Best beaches in Navene di Malcesine? We recommend visiting the following stunning places in the area: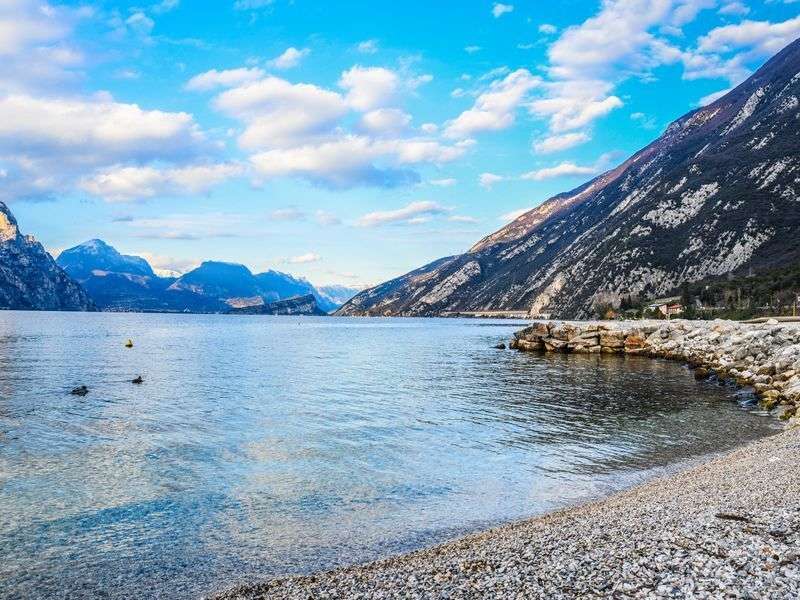 The article includes the followings:
Best beaches in Navene di Malcesine
Navene Beach
Navene Beach stretches by Fraglia Vela Malcesine approximately 4 km north of Malcesine. The children can try their hands at various sports on this free, pebble beach. There're also superb bars, pizzerias and restaurant nearby.
Val di Sogno Beach
You find the pebbly Val di Sogno Beach south from Malcesine, with parasols and sun loungers available for hire. The beach is popular amongst surfers and sailors as well. Only 20 m away from the beach is Isola del Sogno–the 'Island of Dreams'– where you get the chance to try diving too.
Paina Beach
The beach stretches only 100 m away from the town centre, to the north of the Scaliger Castle. It's well-equipped and you can find several sports grounds as well. There're bars and restaurants and a beach club on the beach where you can hire sun loungers.
Campagnola Beach
This free beach lies in Località Campagnolában 3kn north of Malcesine, boasting both pebbly and rocky stretches of coast. It's one of the biggest beaches where you can make your choice between excellent bars, pizzerias and restaurant.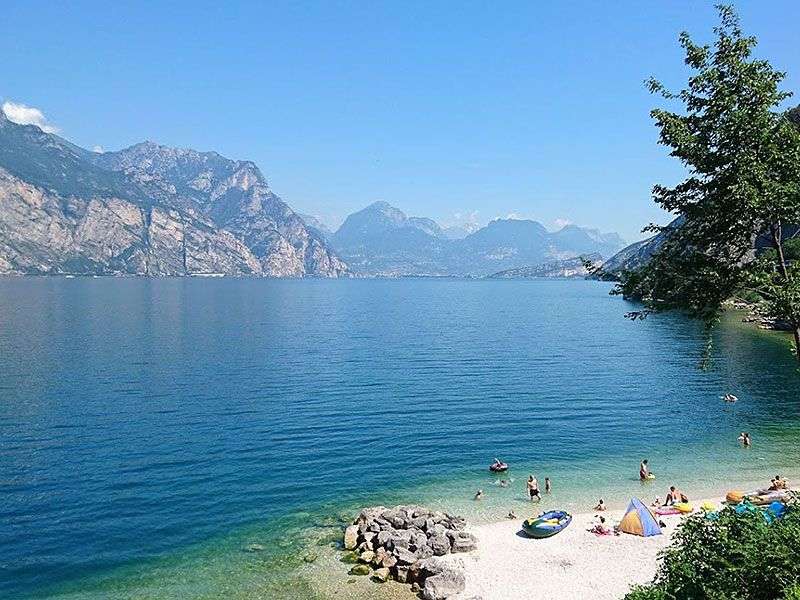 Coasts and bays in Navene di Malcesine: unique natural environment
Lake Ledro
One of the most picturesque spots in the Lake Garda area is the Lago di Ledro – Lake Ledro. If you are seeking serenity, it's a perfect choice. The lake is nestled in a gorgeous bay encircled by mountains and its crystal clear water makes it an excellent swimming spot. You can approach this stunning place even by a walking tour. You find the finest restaurants in the vicinity of Pieve di Ledro.
Punta San Vigilio-Baia delle Sirene (Riva del Garda)
One of the town's most beautiful beaches with an entrance fee is the Punta San Vigilio-Baia delle Sirene – the Bay of Sirens. It's nestled in stunning natural surroundings and it's also very popular amongst families. If you are looking for more than beach fun only, Riva del Garda has some excellent hiking trails. Do you fancy sampling some of the unique dishes of the local cuisine? Then don't miss visiting some of its cosy restaurants either.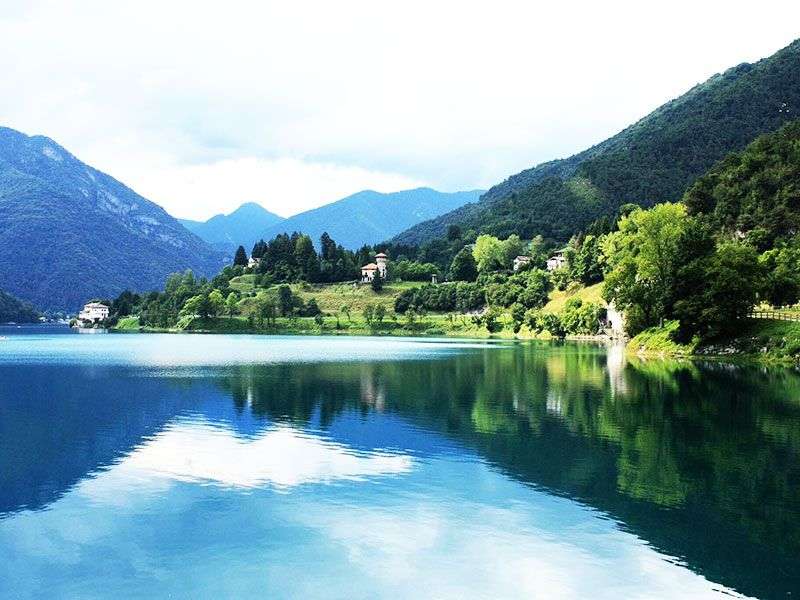 Beaches around Navene di Malcesine
Spiaggia Sabbioni Beach (Riva del Garda)
This spot lined with crystalline waters is practically a beach and a park at the same time, ideal for families with small children. There're lots of trees, therefore shady patches are plentiful to choose from. The beach is long and very well-equipped and there're both pebbly and grassy patches. If you're visiting here, it's worth trying some of the water sports too.
Spiaggia Tifu Beach (Limone sul Garda)
Limone sul Garda is located on the north-western part of Lake Garda, 11 km from Riva del Garda. The beach of its historical town provides several services to grant your comfort and there're superb bars and pizzerias around. The steep cliffs and the view overlooking the mountains enhance the town's beauty. On its long, waterfront promenade there're numerous atmospheric restaurants and cafes to choose from.
If you are visiting the Navene di Malcesine area, you'll be spoilt with crystalline waters and various water sports to try. Make your choice between the splendid beaches introduced in this article to have the chance to swim and sunbathe in gorgeous natural surroundings.