It's mainly the southern part of Lake Garda that is ideal for swimming, as the temperature and the water are warmer compared to the northern part. The beaches are mostly pebbly-rocky and not sandy, and the water is quickly-deepening. The best beaches in Garda? If you are looking for a pleasant recreation in a beautiful environment, choose one of the following destinations.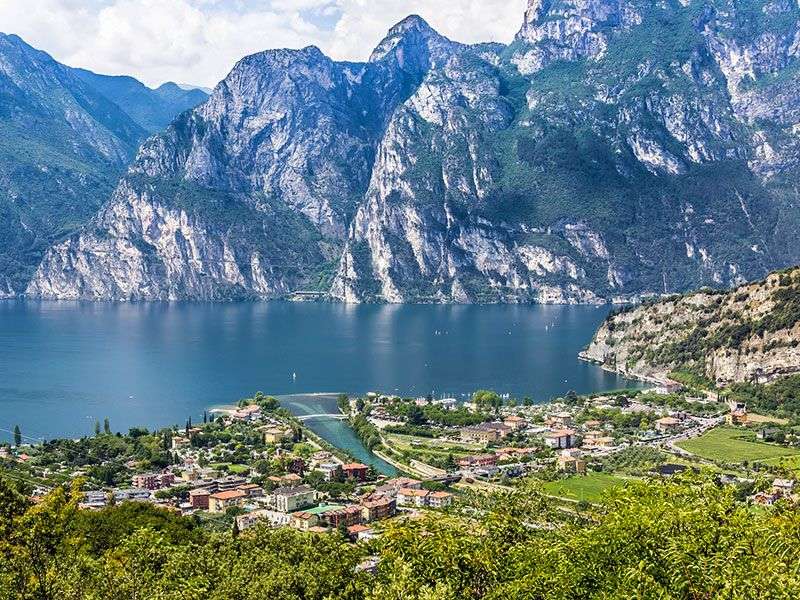 This article gives you an overview of the following topics:
The best beaches in Garda: You can swim in crystal clear waters
Lido delle Bionde, Santa Maria (Sirmione)
Sirmione is one of the most beautiful places on the southern parts of Lake Garda. There are fine, moderately rocky shores here. Lido delle Bionde has crystal clear waters. Its main public beach, Santa Maria, is popular among families. They provide a lot of space for the children. You can also find a thermal spa in Sirmione. You can choose from several restaurants, ice cream parlours and gift shops on the narrow streets of the old city. Many tourists visit the place. If you have a chance, visit during the spring or autumn period to avoid the crowds.
La Cavalla (Riva del Garda)
You will find the public pebbly beach of La Cavalla a few metres from the centre of Garda, so you can access it without any problems. There are loungers here for rent, and you may choose from amazing bars and restaurants on the beach. The water is especially clean in this area, so it's no surprise that it's extremely popular.
Spiaggia delle Lucertole Beach (Nago-Torbole)
The Spiagga delle Lucertole is one of the smallest and most beautiful public beaches at Lake Garda. It's famous for its giant rock, only recommended for more experienced climbers. Although the water temperature is slightly lower than in the southern regions, it's an ideal spot for swimming from the end of May-beginning of June to September.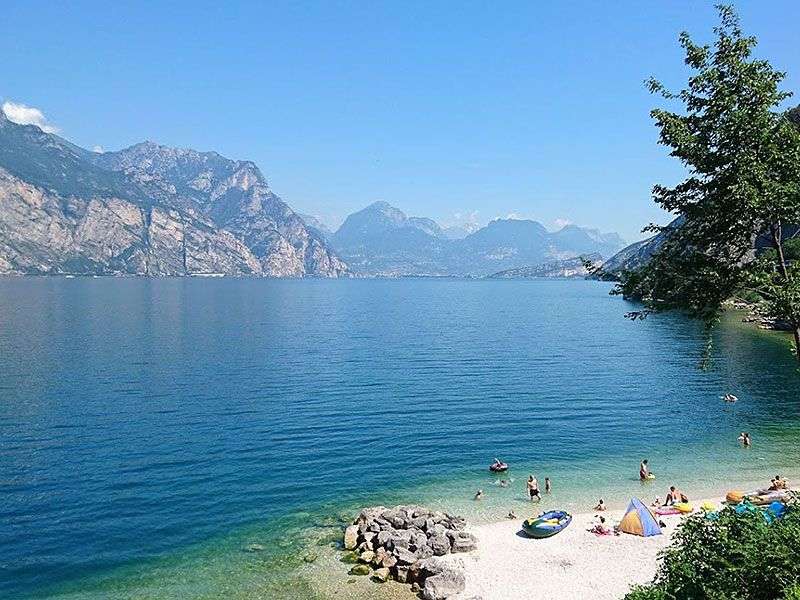 Coasts and bays in Garda: Beautiful natural environment
Punta San Vigilio-Baia delle Sirene (Riva del Garda)
Riva del Garda can be found on the northern part of Lake Garda; it's the second largest place at the lake. One of the finest paying beaches of the town is Punta San Vigilo-Baia delle Sirene, which translates to "the bay of sirens". It's located in a beautiful natural environment. The beach has a playground, making it ideal for families with small children. If you want to do something else rather than swimming, you shouldn't worry either. There are great hiking routes and sports opportunities in Riva del Garda. Explore its cosy restaurants, too!
Spiaggia Tifu Beach (Limone sul Garda)
It is located 11 kilometres from Riva del Garda, on the northwestern part of the lake. The beach in this historic town offers an opportunity for safe swimming and several convenient services as well. Explore its great bars and restaurants. The town is made even more beautiful by the steep rocks and the beautiful view of the mountains. There is a wide range of restaurants and cafés on the long boardwalk.
Val di Sogno (Malcesine)
The Val di Sogno pebbly beach is located south from Malcesine. You can rent loungers and sunshades on the beach. The beach is popular among surfers and sailors. Isolda del Sogno can be found only 20 metres from here, providing a perfect spot for scuba diving.
Spiaggia dei Pini Beach (Riva del Garda)
Spiaggia dei Pini is mainly popular among the youth. In the summer, they have thematic parties and music here. The large grassy area is also full of loungers and showers. The beach is very popular among surfers.
Spiaggia Sabbioni Beach (Riva del Garda)
This place, with its crystal clear water, is practically a combination of a beach and a park. It's suitable for families with small children. The great number of trees provide several places with shade. The beach is long and very well-equipped. There are both pebbly and grassy areas. You have the opportunity to do watersports as well.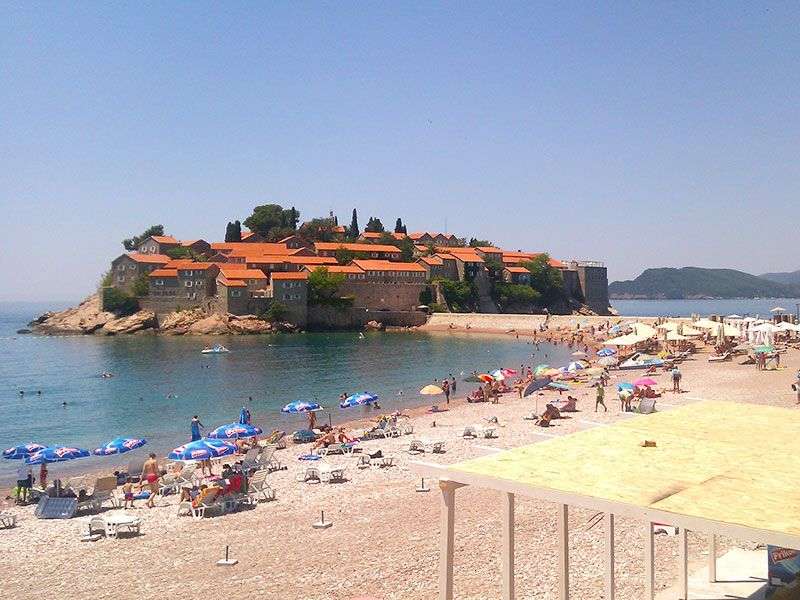 More beaches in Garda: You should see these places, too!
Mirabella Beach (Bardolino)
You can find this paying beach south of the historic city of Bardolino. There are sunshades and loungers here, as well as fine bars and restaurants. The narrow pebbly beach only has a few grassy areas, and the water here is very deep. Bardolino is famous for its great red wine. Once you are here, you must taste it in a local wine cellar or restaurant.
Ronchi Lido Beach (Castelnuovo del Garda)
There are loungers and restaurants on the beach, and you can also find nice spots with shades. In the evenings, aperitifs and parties are very common. If you are looking for a relaxing place with entertainment, this beach is a perfect choice.
Spiaggia Baia del Vento (San Felice del Benaco)
Baia del Vento can be found next to San Felice del Benaco. It has silky sand, and it's not too crowded. It's suitable for families with small children. You can rent a canoe or a paddleboat. If you would like to taste the delicious pizza, try the pizzeria Baia del Vento.
The aquapark – a paradise for those looking for entertainment
Besides beaches, aquaparks also provide a pleasant recreational opportunity for families with small children. Thanks to the diverse waterslides, adults won't be disappointed either.
Caneva aquapark
Extreme slides such as the Water Jump are for older kids and adults. Another example is the Stukas Boom kamikaze slide that offers a freefall experience from 40 meters high. The place is very popular, so we can expect big crowds.
At Lake Garda, you not only have the opportunity to swim in the crystal clear water, you can do many watersports as well. The beautiful environment will definitely provide you with a pleasant recreational experience.