Actually, Italy is not just rich in historic monuments but its breath-taking beaches attract thousands of tourists. Soft white sand, crystal-clear water – what else is needed? Beaches in Italy? Check out the best ones.
The main points are the following:
Best beaches in Italy: The most popular beaches
Capri
It is regarded not just Italy's but Europe's one of the most amazing places. The beaches are pebble-stoned, rocky. A quite popular one, Marina Piccola, lies on the south of Capri. If you are tired of sunbathing, put on your hiking shoes to discover the mountains nearby. Also, several voyages are at your disposal to go around the whole island while sitting comfortably on a yacht. All of them can be really memorable feelings.
Sardinia
Cala Goloritze, one of Italy's most beautiful beaches, stretches along the northern east part of Sardinia. The small pebbles on its beach stem from the white cliffs nearby. However, it is placed on the top of the priority list of beach lovers, its surroundings are excellent for hiking too.
The other popular beach of Sardinia called Spiaggia di Cala Monte Turno faces south-east. Certain parts of it are quite bushy covered by Mediterranean plants. The focus is on kids here since the clear water is shallow, excellent for bathing. This beach is a very nice spot for snorkelling.
Rimini
Or in other words 'Europe's Miami'. Why? It is one of the most famous and largest holiday resorts of Europe. The 15 km long coastline is the favourite place for families with children thanks to its slowly-deepening water. You are rather keen on recreation and spa? Then, unfortunately, you need to choose another destination. The beaches here are crammed with thousands of bathers. Still interested? Then come in May or September.
Above all, the biggest fans of Rimini are children because fun parks, aqua parks, aquariums and dolphinariums welcome them during their stay. One example, Fiabilandia Theme Park in Rivazzurra is dedicated to small children.
Puglia
Puglia's 'Maldive islands' is named Pescoluse. Its fine white sand and azure blue water make it a perfect vacation spot. Moreover, the over 5 kilometre-long coastline can be an excellent choice for a romantic evening walk.
Polignano a Mare was built on cliffs around a bay. Restaurants, bars and ice-cream shops with pleasant atmosphere await you here. An interesting factor: the most famous and exclusive restaurant is the Hotel Ristorante Grotta Palazzese is located in a natural cave.
Bibione
It can be found between Caorle and Lignano, 60 km from Venice. Its gradually deepening water makes it also a great place for families. Beyond swimming, there are other sports facilities such as parachuting, sailing or surfing. For children, animation is free of charge. For passive holiday seekers, the Thermae thermal bath of Bibione offers a wide range of spa care packages and treatments.
Ischia
This picturesque destination is basically an island in the bay of Naples. One of its most famous towns is Forio. Here is Cava dell'Isola, the favourite beach of young tourists. Don't forget to visit the other one, Citara, too at the foot of the Epomeo Mountain. Its uniqueness lies in its water which a mixture of original sea water and thermal springs.
Lacco Ameno lying between two mountains can be found in the San Montano bay. The next is the beach of Cartaromana in Ischia Ponte. Although there is a wonderful view in summer, swimmers can still enjoy it in winter due to its thermal water.
The beach of Le Fumarole is accessible on foot in 30 minutes from Sant'Angelo. Of course, the water taxi can shorten this travelling time. It is regarded as the best beach of the island because it is wide, long, and clear. The coast is located on a volcanic basin, rendering the sand hot and dark. In addition, it is rarely crowded.
Coasts and bays in Italy: for recreation
La Spezia
La Spezia, by the shores of Liguria, is the capital city of the province of La Spezia. If you are looking for a quiet place, you've arrived. The other important factor is: which is the best location for swimming? Well, let's visit the beach of Lerici. Want a tranquil evening stroll? The ideal place is Giardini Pubblici. There are, of course, other fabulous sights out of town like the settlements of Cinque Terre, Portonevere and the well-known Toscana.
Bari
On the one hand, it is Italy's southernmost city. On the other hand, it is a busy port. Regarding its beaches, Pane e Pomodoro offers excellent services. Other miraculous coasts are waiting for you around the city. But if you really want to avoid the crowd, choose a less expensive spot. The coastlines and small towns around Bari are at an affordable price. Not to mention the old town with its narrow streets which give a magnificent view or Lungomare, its enjoyable waterfront promenade.
Sorrento
Sorrento was established on the south-east part of the Gulf of Naples, that is, 50 km from Naples. There isn't a good word to describe it: it's gorgeous with hills, mountains, nice bays, beaches offering several facilities. The shores are quite variable: either with black sand, rocks or pebbles. Looking for barely discovered places? Visit its small bays. When it comes to gastronomy, you won't leave thirsty. There are famous wines to try, or limoncello, a local refreshing Italian lemon liqueur. Besides, the drinks consume a delicious pizza or a freshly-baked pastiera cake.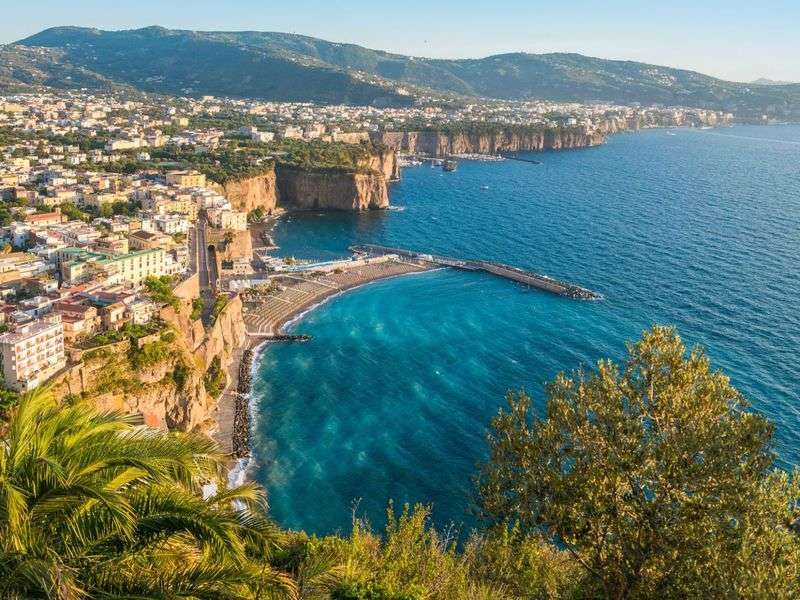 Vieste
It is the most popular place of tourists on the Gargano Peninsula. Here you won't encounter crowds of people. Basically, there are undiscovered sandy coasts with cliffs formed in the Cretaceous period. Exciting voyages are organized which include a trip into the awe-inspiring sea caves.
Beaches in Italy: places to be seen
Calabria
Its location: in Tropea municipality in the province of Calabria. It's also called the Coast of the Gods (La Costa Degli Dei).
The other popular bathing place is Capo Vaticano with its snow-white sand, crystal-clear warm water. In addition, the view from the top of the surrounding cliffs is fascinating.
Stintino
The beach of La Pelosa can be found in Stintino city on Sardinia. You put your feet here into fine white sand. Its water is shallow and transparent. Furthermore, there is a breath-taking view of the Piana and Asinara islands.
Senigallia
This South-Adriatic holiday resort is 25 km from Ancona to the North. The 10-kilometre long beach, Spiaggia di Velluto, has very fine golden sand. If interested in historic sights, visit them near the shore.
You cannot deceive in Italy if it's about beaches. Relaxation instead of an active holiday? You are in the right place, indeed. Choose one from the less popular beaches from the list.